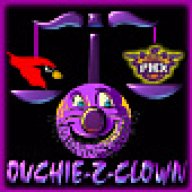 Joined

Sep 16, 2002
Posts

57,804
Reaction score

47,690
Location
I don't disagree that it's an indictment against the club. Whatever their reason was, (and we don't know) it was enough to go elsewhere. I liked them both but in my opinion, they were both average at best, and injury prone. Certainly not so great as to be losing our **** over them leaving.
I love all the hyperbole flying all over the board. "Losing our ****," "franchise killing gaffe." Literally no one is doing or saying either of those things.
What people are noting are the "gaffes" are piling up in the new front office "cons" column compared to their "pros" column.
Pros:
Nice trades in the first round
Cons:
Questionable selections post-second round
No center on the team
Tampering costing valuable draft positioning
Lost two young average-to-good free agents
Let hop go for zero compensation
That's it at present. Just looking at fact by fact. The proof is going to be in the play, and obviously not in this seasons play. So we won't really know the value of their actions until 2024-2025 season. Except we will be building from virtually ground zero at the end of the upcoming season, so I don't that season to be very good either. So likely not until 2025-2026 season until we can really determine if this front office is any good. That's a long time to wait in the nfl. So in the meantime we can only examine what we do know, not what might happen with cap space and flexibility and future draft picks.