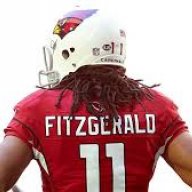 Crawled Through 5 FB Fields
Joined

Aug 10, 2005
Posts

13,405
Reaction score

2,982
Location
Many tell-tale signs of dysfunction.

* After recent error-plagued losses to MIN and ATL, a rather subdued Bruce Arians hinted at having himself and the coaches do some much-needed reflection as to why the team is self-destructing. However, as has been the pattern after all of the losses this year, the next day, after having studied the game film, Arians used his Monday afternoon pressers to point fingers at individual players and at the poor lack of leadership amongst the veterans, as well as the poor effort and commitment from the younger players.

To many Cardinals' fans who endured the frustration of hearing Ken Whisenhunt week after week defend himself and his under-performing coaching staff by insisting that "the system works," Arians' refusal to take his part of the blame is disconcerting.

Arians has lost some credibility over the past eleven months. His favoring and protecting of some under-performing players such as Carson Palmer, Drew Stanton, A.Q. Shipley, Mike Iupati, Jermaine Gresham, Andre Ellington, Kevin Minter and most of all, Drew Butler, has created serious questions about BA's ability to separate his personal allegiances from his fair assessment of the players' productivity.

Such applies to his coaching staff as well. While in certain aspects, James Bettcher has shown some growth as a DC, his defense breaks down because several players do not stay within their assignments and disciplines. Any team preparing against the Cardinals' defense can readily see that the Cardinals do not emphasize keeping contain on the edges, they do not pick up and cover RBs well on passes out of the backfield, they do not attack and blow up screens, they do not tackle well on the perimeter.

What all these deficiencies suggest is that the players are either not being taught well enough or the players pretty much feel they can do their own thing on the field regardless of their responsibilities. Either way, this suggest a certain disconnect between the defensive coaches and the players.

On the other side of the ball, no matter how many injuries the offense has incurred, the system does not change.

* despite having all the skill players back from last year---(1) plays are still being read off a wristband; (2) plays are coming in late; (3) the players are not getting out of the huddle fast enough; (4) the play clock is always running down to 3 or fewer seconds; (5) over 90% of the plays are being snapped at the first hut; (6) the WRs routes are wildly inconsistent (save for Fitzgerald); (7) the QB is forcing passes where he thinks the WRs should be instead of re-adjusting to their routes; (8) the minimal protection scheme-wise has caused Carson Palmer to take repeated beatings in the pocket; (9) when TEs are asked to help out on the edge, they tend to whiff completely on their blocks; etc.

* yet because of how tremendous David Johnson is, the Cardinals have been able to mount several long drives a game, only this year, when Palmer gets the team into the red zone, BA gets pass happy and Palmer starts forcing the ball into ill-designed routes that are such egregiously low-percentage.

On STs---things remain a three-ring circus---yet BA insists that the coaching has been excellent. The punting game on both ends has been atrocious---the other teams are booming punts and flipping the field, even when they punt from near their own goal-line. Meanwhile, Drew Butler consistently fails to deliver, both in distance and hang time.

Then there is the issue of developing younger players----BA conceded this week that he no longer expects rookies to contribute, but laments the fact that so few of them are even contributing on STs.

There appears to be a significant disconnect between what Steve Keim sees in the players he drafts and what consequently BA and his coaches see when they hit the practice field. Two years in a row now, the Cardinals have gotten zero out of their 1st round picks---that is not a coincidence.

Look at this year's draft:

* Nkemdiche---despite sub-par DE/DT play from everyone but Campbell, Rucker and Mauro, NK can't even crack the rotation. A healthy inactive week after week.

* Brandon Williams---was thrown into the fire way too early, lost his spot, but couldn't even beat out Tharold Simon for playing time in sub packages---plus, despite coming in with the reputation of being a stellar ST player, has not been a factor at all on STs.

* Evan Boehm---had one of the best TCs of any of the rookies, but BA has been insistent on starting Shipley.

* Marqui Christian---cut in one of the worst roster handling gafffes in Keim's and BA's tenure.

* Cole Toner---despite, like Boehm, having a good TC and pre-season, can't even get the nod over Taylor Boggs, whom they cut and then brought back a few weeks ago.

It is hard to say who is more at fault here---Keim or Arians. But what's clear is that the coaches are not developing the players as quickly as they should. In a year where two rookies, QB Dak Prescott (4th rounder) and RB Ezekiel Elliott (!st rounder) and legit MVP candidates on an 11-1 Cowboys team, the Cardinals no longer have any excuse for refusing to develop and play rookies----in the age of the salary cap, getting some mileage out of the rookie class is imperative.

The players just met on their own---they are saying they are big-boys who can take being called out for their selfishness and lack of toughness and leadership in the media---but will they be able to overcome the dysfunction? Hard to know----but being shamed by the coach isn't usually an effective motivator.