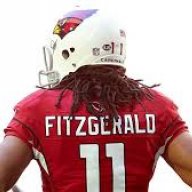 Crawled Through 5 FB Fields
Joined

Aug 10, 2005
Posts

13,405
Reaction score

2,982
Location
So how and why is James Bettcher BA&SK's choice to replace Todd Bowles as defensive coordinator?

On the surface, Bettcher's appointment is a mysterious choice because of his age (36) and the fact that he has never coordinated a defense, even at the college level.

However, Bettcher seems to have a knack for being in the right place at the right time.

At little known University of St. Francis, Bettcher excelled not only at football (All-Conference offensive lineman for three years) and track (shot put), he earned distinction as a three time Academic NAIA All-American. Clearly, Bettcher knows a little something about scholarship, dedication and the commitment to excellence. Evidently, Bettcher knows how to carpe the diem and "gather ye rosebuds" while he may.

So he begins his coaching career in 2003-2005 at his alma mater, the University of St. Francis (indiana) by becoming the special teams' coordinator and defensive line coach. He assists with the team's strength and conditioning program and serves two years as the school's head coach in track. The football teams he helped to coach made the playoffs all three years and twice played in the national championship game.

In 2006, Bettcher left St. Francis to become a grad assistant and defensive backs coach/special teams assistant at Bowling Green University and had himself a taste of football on a bigger stage.

Then in 2007 the stage got significantly larger for Bettcher as he moved on to the University of North Carolina where for three years he served as a defensive assistant/graduate assistant. His focus area was at linebacker where he helped to groom the likes of NFL talents Robert Quinn, Bruce Carter and Quinton Coples.

In 2010, Bettcher returned to Indiana where he landed a spot on Ball St.'s coaching staff as defensive ends and special teams coach. One of his defensive ends there, Robert Eddis, was selected to the All-MAC team.

In 2011, he landed a special teams coordinator job at the University of New Hampshire in addition to being the linebackers coach. In his one year there he coached linebacker Matt Evans, the 2011 Buck Buchanan Award winner and FCS Defensive Player of the Year.

Then things got very interesting for Bettcher. He made the jump to the NFL and a return to his home state of Indiana when newly appointed head coach of the Indianapolis Colts, Chuck Pagano, hired Bettcher to be his personal assistant. What a football odyssey this was for Bettcher after a series of short coaching stints at four colleges.

As it turned out, there was a lot more significance to his role as assistant to the head coach than he ever imagined, as Chuck Pagano was diagnosed with leukemia and had to take a leave of absence from the team---thus leaving his offensive coordinator, Bruce Arians, in charge.

During that scary and emotionally charged 12 week interval, while BA and the entire coaching staff was "keeping the light on" in Pagano's office and helping to lead rookie Andrew Luck and the team to a surprising 11-5 record, Bettcher was the key messenger between Pagano at the hospital and Arians on the football field.

During those frantic 12 weeks, Arians and Bettcher developed quite a trust and mutual affinity. They were able to rejoice when Chuck Pagano returned---especially to see that by Christmas Eve the light was off at night in Pagano's office.

Arians had a bit of health scare himself just as the Colts were headed to the playoffs as he wound up being hospitalized because of chronic dizziness and migraines---which turned out to be caused by an inner-ear infection. Arians is no stranger to hospitals, as he is a prostate cancer survivor.

Arians wasn't well enough to coach in the playoff game, a game that the Colts lost to the eventual 2012 Super Bowl Champions, the Baltimore Ravens, by a score of 24-9.

It took a couple of weeks for Arians to start feeling himself again---which may have been a mysterious blessing for him and the Arizona Cardinals because as what looked to be a shoe-in for NFL Coach of the Year having led the Colts without Chuck Pagano to a 9-3 record, Arians was suddenly a hot candidate for head coaching jobs. Arians' delayed start in the process and the Chicago Bears' curious decision to tab Marc Trestman instead, paved the way for Arians to seize the reins in Arizona.

When Arians signed on as the Cardinals' head coach he took two Colts' coaches with him: offensive line coach Harold Goodwin, who BA appointed as offensive coordinator and assistant to the head coach James Bettcher, who BA appointed as outside linebackers coach.

What's interesting here is how Bruce Arians was able to take James Bettcher with him. After all, Bettcher was Chuck Pagano's personal assistant. Curiously, when one Googles the 2012 Indianapoils Colts' Wikipedia page and scrolls down to the highly detailed "staff" section, James Bettcher isn't even listed. Most likely, Arians was able to do what Chuck Pagano wasn't---which was to offer Bettcher an actual coaching position.

Regardless, there are unique qualities in James Bettcher that Bruce Arians has embraced from the get-go. Their mutual appreciation and affinity for Chuck Pagano was, is and always will be their springboard.

As we have learned about Bruce Arians, he is man who thrives on creating undivided loyalties amongst his fellow coaches and players. Arians is a coach who loves to toss convention aside in favor of acting on what his gut instincts and intuitions tell him to do. Bruce Arians---the man and the coach---is not afraid to roll the dice.

Therefore, how and why is James Bettcher Bruce Arians' choice to replace the coach in the NFL BA feels most loyal to in Todd Bowles? It may be as simple as the loyalty he has forged with Bettcher over their exhilarating and highly improbable run over the past three years.

You know, life is a funny thing in how often lives intersect out of pure chance. Arians was driving with his wife to Georgia where he was planning to retire after having been unceremoniously set free by the Pittsburgh Steelers. On the way, he gets the call from Chuck Pagano. At the same time, an assistant college coach who has had four short coaching stints gets a similar call from Chuck Pagano and is offered a relatively unique job as assistant to the head coach. Little did all three of them know at the time that they would be joined at the hip for one of the most improbable victory rides in NFL history---not just in the 11 victories the Colts achieved after a dismal 2-14 season---but in the most important victory of all: Chuck Pagano's victory over leukemia.

It's no wonder that James Bettcher and his wife, Erica, named their son Colton.

And now that St. Francis grad Bettcher is going to become one of the youngest defensive coordinators in NFL history---he can put one of St. Francis' most famous mantras to the test:

"Start by doing what's necessary; then do what's possible; and suddenly you are doing the impossible."
Last edited: