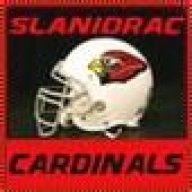 ASFN Icon
Supporting Member
Joined

Jul 11, 2002
Posts

13,814
Reaction score

11,786
Location
Gannon is not the Messiah. How " enthusiasm" is going to wear thin on us and the players.

Mistakes on his part are going to be magnified and the mantra " It's a rebuilding year and it's all about 2024" will start to fall on deaf ears.

It will become clear as day that Kyler's return will not be enough to salvage a chance to win games this year, even if he returned by game 3.

Yes, there is still time to sign some free agents but that doesn't appear likely even though there are players out there that could help this year and beyond I.e. Ben Jones.

By November we will have pages of the 2024 draft and its prospects. The debate of drafting yet another Qb with our first pick will ramble on.

As I said, Gannon is not the Messiah. It's a learning year for him and literally his ENTIRE staff. Rest assured he is going to continually get roasted in this forum. Consolation "wins" are not going to be enough.

Not trying to be a Debbie Downer but there is only so much lipstick you can put on a pig. Our fandom and loyalty is going to be severely tested.

Have a nice day.