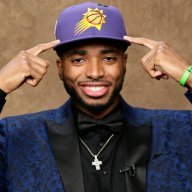 Joined

Oct 24, 2002
Posts

21,345
Reaction score

5,575
He doesn't understand just how athletic he is, nor how big he is. Nobody is questioning his athleticism- he is very athletic, but he doesn't know what to do with it. It's almost as if though his brain in telling him he is not athletic. He just doesn't seem to be able to process the fact that he is very tall, extremely long, and incredibly athletic. To use an extreme example, people who suffer a stroke find themselves in situations where they can't say or do what they have said and done thousands of times.

In a way, it's the issue Bridges had until about a month before the trade. He is extremely long, very athletic, has a great size, and decent handles, which makes him very difficult to stop. However, he had not been able to process that and translate it into being an actual offensive threat.
I don't think it's either. I think he is playing high half the time. He's got lots of money and he loves weed. So does Durant. KD is actually in the pot business.
That they both smoke a lot is not even a question. Whether it is impacting their games, well that's anyone's guess based on observation.