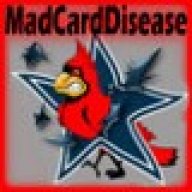 Moderator
Moderator
Supporting Member
Joined

May 13, 2002
Posts

19,151
Reaction score

9,551
Location
The Experiment has failed. It's time to pull the plug on Kliff and his offense. Sadly the death of Mike Leach last night was like a bit of foreshadowing of what's to come of Kliff's offense in the NFL. Not just Kliff but also Keim needs to be shown the door. This team needs to to be rebuilt with an experienced NFL Head Coach and a GM that can spot talent.

Sadly I think 2023 is a lost cause. So I would burn it all to the ground starting with a couple of most likely unpopular moves:

- First I would trade Budda Baker for a 1st round pick. Let Budda go play for a team that has a chance to win while he is still able to play at a high level.

- Second I would Trade DHop for a 2nd and 5th round pick. DHop is still a great WR but is 30 years old and on the decline. Might as well get something for him while you still can.

- Third, know that Pugh and Hudson will retire and need to be replaced.

- Fourth let Watt and AJ Green walk via free agency. No need to bring back aging vets during a rebuild.

For the Cardinals to be somewhat competitive in 2023 they should use FA told rebuild the OL. Hopefully the new HC and GM will want to rebuild around a strong running game that is dependant on play action. Additionally they should look to bolster the DL as well in FA and the Draft including adding a young edge rusher. There needs to be a youth movement that targets players who love to play football. All with the goal to be competitive enough to make the playoffs in 2024.