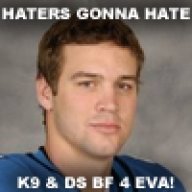 Joined

Apr 30, 2003
Posts

30,484
Reaction score

4,846
So....you admit that there is a personnel deficit and objectively, the Cardinals ranked in the top half of almost ALL NFL offensive statistics...what is the problem? Maybe the personnel deficit is still too great to do any better than mediocre (8-8)?
Using the Jake Plummer defense? It is not Kliff and Murray, it is just everyone else?
That is a tough sell.
The problem is being competitive and consistent.
There is absolutely NO DOUBT, the offense improved, but it needs to be better in situational football, and in key situations. The problem is the Jeckly and Hyde that this team was this season. I cannot remember the last time the team played games this entertaining, but then again there was some "Same ol' Cardinals" football games as well.
That all being said, unlike the last time this was debated on this board to death, there is definite proof that this can work, but right now the concern is that progress must be made. Will that happen.
I hope so. I really do.