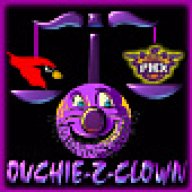 Joined

Sep 16, 2002
Posts

57,175
Reaction score

46,532
Location
I have no skin in the game either way but couldn't both sides be working in bad faith? Clearly the right is over buying the same way most authors do to make The NY Times best seller. The left and owners of AMC are also trying to deny people from seeing it by either marking the theater as full or pulling a bunch of AC is broken tricks. I've seen at least 20 videos of move theaters where the AC is broken but only in the theater where sound of freedom is playing. I think both sides are doing shady stuff in a pissing contest.

The left does a good job at making too big of a deal of everything which has now driven interest of this movie way higher than it should, while the right thinks everything is a pissing match and care more about pissing off dems than the subject matter of the movie.
Wait you think theaters are purposefully tanking one of their own screens? At a time where they're fighting for their very existence? Interesting.