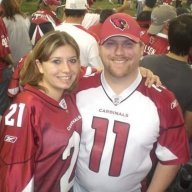 Joined

May 15, 2002
Posts

21,685
Reaction score

19,880
Location
Because I am a draft and football junkie, he are some players to watch at potential positions of need for Arizona this off-season. Not really focused on where some of these guys might project but I probably will ignore top 10 guy like Stingley and such.

Kenyon Green - OL - Texas A&M
-Played OG the past couple years but has kicked out to LT this year. Quick and explosive are two traits I am sure the Cardinals will be looking for in future interior linemen. Strength to hold up and set the front of the pocket will be key and Green can do that. Well put together kid.

Drake Jackson - EDGE - USC
-He probably goes high but he is still a bit raw at this point and it is a decent EDGE class. He reminds me a bit of Chandler Jones in that he isn't a speed EDGE player but used quickness and length well.

George Karlaftis - EDGE - Purdue
-Another long EDGE player. Karlaftis is probably more of a base 4-3 DE but if the Cardinals think they can pack some muscle on him, he might be what we have been hoping Zach Allen would turn into.

Aiden Hutchinson - EDGE - Michigan
-Very similar to Karlaftis in build and ability. I like him a bit more as I think he is longer and can pack a bunch of weight on easily to dominate at 3-4 DE ala Watt.

Treylon Burks - WR - Arkansas
-Big boundary WR that the Cardinals were looking for when they signed AJ Green. The only things I don't love about this is Burks plays a lot in the slot and is very refined. He will be an option but I worry that he will be over-drafted.

Kaiir Elam - CB - Florida
-Keim likes to go back to the well when he drafts certain positions from certain schools. We have seen it with players from Washington and with the success of Marco Wilson, I am sure he will take a look at another DB prospect from the school in Elam. Another tall and long DB to play outside and he has the physical style Keim and Vance like.

Sean Rhyan - OL - UCLA
-Similar style player to AVT who the Cardinals reportedly liked last draft. Can play OT or OG but length seems to play better at OG. tough to gauge his physicality in a conference like the Pac 12 but he seems to be able to get push in the run game and holds up well vs the bull rush.

Ikem Ekwonu - OL - NC State
-Keim alma mater alert. lol. Dude is a beast in the run game inside. Raw in pass pro. Great size and athletic ability. I like this kid if the Cardinals want to build the interior of the OL like the Saints did with Brees.

There are bunch more, but I will leave it right here for now and update as I feel like it. I know some get irritated by draft talk early in the season and if that is you, feel free to ignore this. for those who just like to know some players to watch on Fridays or Saturdays, happy to point you in the right directions.