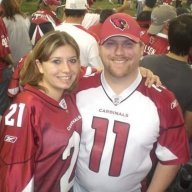 Joined

May 15, 2002
Posts

25,129
Reaction score

30,054
Location
My impression of Pugh is that he's probably really good technically, with also a high football IQ, but only average in terms of physicality, and declining in that this last area.

We have so many other roster issues to deal with, that while it's possible you could upgrade this position, maybe instead opt for continuity here, and spend our FA and draft capital on other positions that are surely weaker than LG.

If we could persuade him to restructure his deal, that would be even better.
If you acquire two good OGs and one of the supplant's Pugh, great, move on from him then? Until that time comes, you are just creating anothoer hole that Keim will be unable to fill in the draft or will overpay a player who will not be able to justify the money he is getting aka Pugh/Kennard/Phillips/Watt.