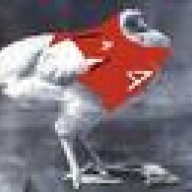 Joined

Oct 10, 2011
Posts

16,047
Reaction score

5,438
Curious who you all think will be better post trade: Sixers or Nets.
The Nets are likely to lose almost every home game from now until Durant gets back. It is very likely that they get stuck in the play in game and a decent chance it is against a dangerous Hawks team... ironically the Nets would probably be better off if they had to play it on the road.
I also think that Irving and Simmons are going to have a rough time getting acclimated to each other. If Kyrie is still going to be running the point then the Nets will be playing offense 4 on 5. I think it's going to take a while and some creativity by Nash and for Simmons to demonstrate some flexibility that he never showed any interest in doing while in Philly.
The Sixers on the other hand, in the near term, just swapped Curry for Harden. They were already preforming far better than the Nets and they just got better. I think if they play each other in the playoffs the Sixers will roll over them.