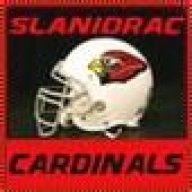 ASFN Icon
Supporting Member
Joined

Jul 11, 2002
Posts

13,874
Reaction score

11,981
Location
Any cards fan with eyes can see that VJ is not a good DC, a good DC could figure out how to use Collins & Simmons, especially Simmons. That kid was amazing at Clemson & there's no way he just forgot how to play defense since he left.
VJ was a bit of a bind with the talent on this defense. He was forced to blitz way too often.
I think it will be a little opposite. Denver actually has some talent so I doubt they are going to be pathetic. Around here We are probably going to hear " this dc makes VJ look like a genius ".
I'm not sorry he left. I'm glad the entire lot of them are gone.