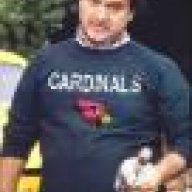 Hold onto the ball, Murray!
BANNED BY MODERATORS
Joined

Dec 30, 2002
Posts

35,312
Reaction score

15,680
Location
I guessed you missed when Joel explained exactly why the roads were clear: FEDRA came through with tanks (and probably bulldozers) to clear a path for themselves. Which is why the cars on the roads they traveled on seemed like they were neatly pushed off to the sides.

Joel explained it because Ellie asked the exact same question you asked.
I did miss that, thanks! With hearing loss (and distraction) that can happen lol
Mm, good explanation for where FEDRA actually is, but not for the ghost towns. The military wasn't/couldn't have cleared ALL the ways in ALL the cities. Still, that's the nitties of picks