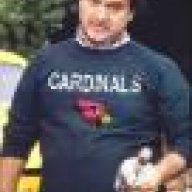 Hold onto the ball, Murray!
Joined

Dec 30, 2002
Posts

36,148
Reaction score

16,944
Location
I didn't say that. We've had this debate repeatedly. Look at your point, you gotta go back over 20 years to where positional value is much different to what it is now. You've done this verbatim. The Mike Webster mention is funny cause positional value obviously wasn't a thing & he wasn't even drafted in the first round. Recent RBs like Barkley & Elliot were perceived as "Hall of Fame talents" coming out, but Elliot might be washed out of the league before 30 & Barkley obviously hasn't consistent lived up to his draft billing.
lol No, those were just the first players that popped into my head. There are plenty of non-premium position players we can point at now and say "Damn, that would've been a smart top 10 pick!"
You've
also done this verbatim, because there are clearly HoF talents at non-premium positions that would doubtless warrant a top 10 selection. Would you take a Travis Kelce in the top 10 of the draft? I get that evaluation isn't 100 percent, and that preference should absolutely be on premium positions, but a
never
stance just limits the talent pool and would be really dumb stance for a GM.