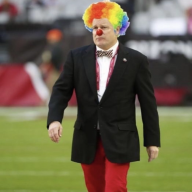 Joined

Feb 14, 2003
Posts

34,888
Reaction score

22,170
Location
Could you just hear all the Sam Bradford Truthers ready to come out of the woodwork and praise the turnaround? They'll slink back into the shadows, only to come out to remind fans that their misery is poisonous to the players, who can only succeed on the crest of our unconditional praise.
Can we say this yet? Steve Wilks probably isn't a bad head coach, but he's not a good head coach. Will he add value on game day over some of the best minds in the league? I don't see that happening. Can he instill discipline on a team that perhaps had become a little loose in the last two or three years?
We'll see.
You must be registered for see images attach
Robert Nkeimdiche, DT
- Steve Keim drafted 'Diche to replace a Pro Bowl 5-technique DT. He's blossoming as a three-technique in a 4-3 defense.
Christian Kirk, WR
- I don't know if the local product can be a Top 25 wide receiver in the NFL, but he's definitely shown that he can play in this league for a while.
Patrick Peterson, CB
- A transcendent talent who would excel in any scheme or system he's placed in. With two years left on his contract, Cards have to start considering whether they want P-twice for his career, or could extract a first and third round pick for him after this season.
You must be registered for see images attach
Steve Wilks, HC
- I mentioned in Week 1 that Wilks' rotations are odd. That was about the defensive line, this is about Chase Edmonds being put into a platoon with David Johnson, which is mystifying. If you're not convinced that David Johnson is a back who can carry the load, why pay him?
Sam Bradford, QB
- Where will Sam Bradford get his next fresh start? I'm guessing Dallas will bring him in to pressure Dak Prescott next year.
Markus Golden, DE
- I don't understand the rush to get Golden back on the field. He clearly hasn't been ready, and he was a huge liability on the edge in this game.