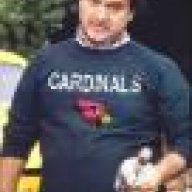 Hold onto the ball, Murray!
Joined

Dec 30, 2002
Posts

35,263
Reaction score

15,631
Location
ya know... I believe in hard nosed football,..coach them hard, all that.
but honestly, I dont care if they have to hire an entourage to follow kyler around, throw rose petals before his every step and fan him with palm fronds to protect his delicate skin from the arizona sun.
if thats what it takes to get 40 TD passes, 5000 yards and consistent 14-3 type seasons... do it. coddle, pander, felate, whatever... but somebody has to figure out what it takes and either make it happen or draft his replacement.
rookie contract... still would have 48mil invested in the qb position, just 42 of it would be the backup, lol. Rather kyler is starting, or backing up a rookie matters not to me.
Nah, we tried that approach and Kyler proved he's too arrogant for all that. If we continue to coddle the kid, he'll continue to think he's God's gift to football. That his Neo act is the way. I'm done with the team kissing his arse.
Neither am I for a hard nosed "rah rah" approach either. I want a coach ready to hold him accountable without screaming, to show him he gets no special treatment but to do so with a steady hand. A chain mail gauntlet in a kid glove, if you will.