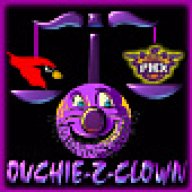 Joined

Sep 16, 2002
Posts

57,925
Reaction score

47,827
Location
Watching GMFB this morning and learned a couple new things about Jalen Carter...maybe it's been mentioned, but I hadn't seen it. I knew about legal issues...I knew about leaving combine early...I knew he couldn't finish his pro day...what I didn't know: gained a bunch of weight (out of shape), has still never completed a 40 or bench press for scouts, refused to do any visits with teams not picking in the top 10.

Gaining weight and out of shape: not the 1st and won't be the last prospect to hit the banquet circuit and ignore the gym, but usually these guys get back in shape for their pro day or will conduct private workouts, when they are ready to go.

Not completing fundamentals for scouts: this is actually pretty shocking to me. So far he's showing he may have deficiencies being coached, IMO.

Refusing to visit teams outside the top 10: Again pretty shocking. There could have easily been a team that sees him slide to 7-10 and think he's worth trading up for....but if I was a team in the 11-20 range and I see him get to 7-10, at this point I roll the dice that he'll slide further and it won't cost anything to trade up for him.

Bottom line is the kid is either getting really bad advice or he's ignoring good advice...and it's going to cost him $$$.
Agree. These are BIG warning flags at this juncture.