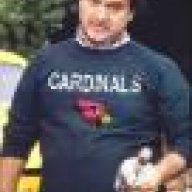 Hold onto the ball, Murray!
Joined

Dec 30, 2002
Posts

27,968
Reaction score

4,340
Location
When was it better?

Last year was the Ghost of P2, Murphy, the rotting corpse of Dre Kirkpatrick, Kevin Peterson, Bausby/Whitaker for 1 game and the exhumed body of Jonathan Joseph. The year before was even worse with rookie Murphy mostly outside, P2 out 6 games, Tremaine Brock starting and Chris Jones and Kevin Peterson playing significant snaps.

This CB room is much better on paper.

Some people seem to have changed their whole outlook of this CB room because P2 was removed. I swear if P2 was still here those complaining would be saying it's a good room, but P2 has been trash since 2018.

And outside P2 in 2018 that CB room was even worse. Bene Benwikere, Jamar Taylor, David Amerson, Brandon Williams. Has any of them played a snap in the league since?
That says all I need to know. This isn't a good CB room; we hope it's an AVERAGE CB room. With our pass rush options, average SHOULD suffice. The problem is, spit and baling wire isn't a good way to go about such an important position. And adding a never-has been to a hasn't-played-in-years doesn't at all fill the gaping #2 hole. We've got a lot of depth in the "wing and a prayer" position, just not starter depth.