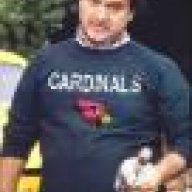 Hold onto the ball, Murray!
Joined

Dec 30, 2002
Posts

36,163
Reaction score

16,979
Location
I didn't, I just didn't need to repeat it.

I liked the Gladney signing. I liked him coming out and at only 25 and $3m per year I thought it was a smart move with tonnes of upside. Had he not died tragically this room would have been fine, especially if they still added Mullen. Four young CB's with a bunch of talent and potential would have been the best position this CB room had been in for some time.

But he did die, and by that time there wasn't much talent remaining. Gladney died on May 30th.

Bryce Callahan signed for the Chargers on the 25th.
Kyle Fuller signed with the Broncos on the 24th.
James Bradberry was traded on the 19th.

All before Gladney passed.

I'm looking at the transaction list after Gladney passed and there is nobody signed to any team that's better than what we have. Nobody of note.

I think Murphy, Wilson, Gladney, Hamilton and maybe Alford coming back (which we know they tried) is a fair plan. And by the time Gladney passed there was nobody left worth signing.

Those that are still sat on the couch are still there for a reason.
And I think, given our woeful lack of pass rush options, it's not a fair plan. Nor was it a fair plan to wait until the death of the preseason to trade for an injured replacement. But, hey, if we can't stop the pass, at least we can't stop the run either. The suckitude on defense shall continue, IMO.