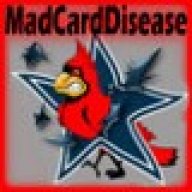 Moderator
Moderator
Supporting Member
Joined

May 13, 2002
Posts

19,392
Reaction score

10,387
Location
Is that based on your hopes, or do you have facts in hand?

Here's the link I got the number from

. Jason shows an increase in the base cap number increasing from $254 million to $256 million from 2023 to 2024. He also shows that it includes carryover.

Just trying to stomp out a false narrative that we'll somehow have a ton of cap space next season.
Arizona Cardinals salary cap, contracts, bonus money, dead money, and cap savings for every player
I don't think he has included the Carryover for future years. 205M is the total spending for 2024 including dead money.
256-205M = 51M