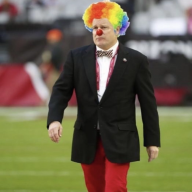 Joined

Feb 14, 2003
Posts

34,961
Reaction score

22,371
Location
Many on this board would do well to curb FA expectations next year because of this, and because of the talent level of the FA class as Brit alluded to. I do expect the Cardinals to pursue a couple FAs but I believe it would be foolish to assume they will be able to add multiple, high level starters next year. I also won't be shocked if Conner sticks as the starting RB in 2024.

Like it or not, Monti is counting on multiple players from this draft class making an impact this year. Cardinals only have on meaningful FA in 2024. I have to imagine after 2023, Gannon and Monti will sit down and figure out what young players they want to extend.
FWIW, I think that Pascal and White are/will be meaningful FA acquisitions this year. Not in winning games, but I expect both to play +60% of the snaps. Maybe Froholdt, also. Those are real additions.
I've said this before, but I think Monti doesn't trust anyone in college or pro personnel right now. Bloodbath is coming in the front office. It's gonna take time for new folks to figure out this roster.