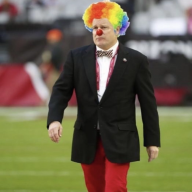 Joined

Feb 14, 2003
Posts

34,025
Reaction score

20,035
Location
This just isn't true. A single player does make you incrementally better or worse. It might be bolstered or engulfed by the success/failure of other aspects of the team, but the performance of each individual player is what ultimately builds the success or failure of the team. So your example has little relevance, if any.

If the move of Simmons in place of budda bears fruit it could be an improvement, but that would also be predicated on the success in replacing Simmons at his old position, or where he could be used elsewhere in gannon's defense. In essence you're betting that moving Simmons and finding his replacement will be better in the aggregate than keeping budda and keeping Simmons where he is.

To put it into general terms, you are betting that changing a heretofore underperforming players position plus an unknown will be better than a multi-year all pro, in his prime plus said underperformer will net to the plus side of the equation. Could that happen? Of course. The likelihood of success? Seemingly very small.
Don't discount the added value of cap space