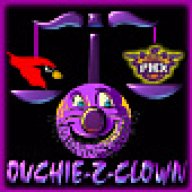 Joined

Sep 16, 2002
Posts

56,840
Reaction score

45,836
Location
People need to stop hating on players that haven't done anything wrong.

I get being pissed at the Org but taking it out on young kids that are the future of the team in below the belt.

TE is one of the toughest transitions in football and he's playing on an offense that not only rarely uses two TE's but had Zach Ertz to throw to for 10 games (and that has also sucked).

Cole Kmet was drafted #43 and had 243 yards as a rookie and he played in all 16 and started 9. He had 612 last year.

On top of that I and other have highlighted mutliple times he's been open, including for TD's, and been missed. He could easily have 150 more yards minimum in a TE2 role.

McBride is going to be fine. You can see he has talent if you watch the player and ignore the stats.

It's very rare for a TE to come in and blow the stat sheet up. Even for high first round picks. The last rookie TE to pass 500 yards was Noah ant in 2019 and Mark Andrews the year before at 552.
I agree. He may not have been the right selection, but as a player I believe he will be a part of our success, whatever that may be.