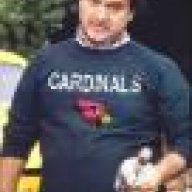 Hold onto the ball, Murray!
Joined

Dec 30, 2002
Posts

27,959
Reaction score

4,331
Location
No offense, but almost everything you review is a negative to you.

You seem to have a high opinion...of your opinions.

If a show doesn't conform to the exact standards of how you want it to be, it isn't fitting to be on screen. You can never enjoy anything for what it is.

Must be a burden being such a literary.
What's a literary? And, actually, I hate "literary" fiction, as I'm a genre fan through and through. Good sci-fi is my jam, second only to good fantasy. Give me the original Conan movie; give me Alien (arguably horror). Give me good popcorn stuff like Lifeforce. I mean, where can you find a better space vampire movie with a hot former ballerina walking around full frontal the whole movie? Give me good humor, like just about all the Monty Python works. Give me a tense spy thriller like Tinker, Tailor, Soldier, Spy, which I just saw for the first time the other day. Give me schlocky Bond movies and good, serious, nasty Bond movies. You can give me Vietnam war movies, grimdark war movies, or pulpy war movies, just don't bore me with war movies (extra credit for catching the reference).