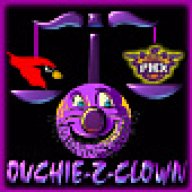 Joined

Sep 16, 2002
Posts

48,920
Reaction score

33,248
Location
It dawned on me as I read the merry-go-round of posters posting the same thing over and over again in thread after thread how much a truly organization-wide issue exists with this team. It's called Problems Everywhere.

We have vocal GROUPS of posters blaming our ills on:

Keim
Kliff
Vance
Bill Davis
Kyler
Our receivers
Our oline (and can't even agree on who are the problems there)
Our d line
Our linebackers (and our coaches' use or lack thereof of them)
Our cornerbacks
Injuries

And there are literally reasonable-to-very-good arguments being made about each and every one of these elements. And none of them are being made by just one poster diatribes. In other words, the Cardinals have effectively baffled an entire board of pretty knowledgeable, observant, interested fans if we can't come close to at least a couple of consensus regarding the central issues.

Know what that tells me? Institutionwide issues. It's likely a confluence of ALL of them to a degree that compound one and other. So the scary thing to me is that this likely isn't just a matter of fixing one or two issues. Yes, doing so will improve the situation, but we'll still be mired down by the gravity of those issues left unsolved. And yes, I know that the buck stops at Michael. But nothing is going to change there.

It's a little maddening coming to this realization.