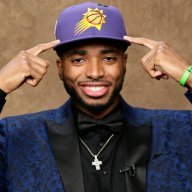 Joined

Oct 24, 2002
Posts

20,944
Reaction score

5,129
I was listening to Woj. The problem is KD is not saying he won't play next season if a trade can't be worked out. So, that takes a ton of pressure off the Nets. He seemed to indicate they are OK with letting KD play on his existing contract. In contrast, he is saying that he has talked to teams and the hesitation is trading away the bank and not having enough to win a title after getting KD.

No question I trade Cam for KD. Not even a hesitation there. I don't want to give up Bridges, but I wouldn't say no there either. It's easy to throw in Crowder, Payne, Shamet, Craig & Saric but at the end of the day many teams may not want those players including the Nets. Also, that's not how picks work. We wouldn't have no picks for 7 years. Some of those would be pick swaps but I think the Nets traded away a bunch of those already.
I would trade Cam. I would hate trading Mikal but I might. I would not at all be interested in trading both.