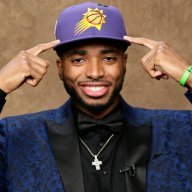 Joined

Oct 24, 2002
Posts

20,744
Reaction score

5,011
I think their rumored package requirement put an end to most trade talks. Just guessing but I think teams will soon go about their business of filling out their rosters and the Nets will start the season with Durant. If he shows that his postseason play was a fluke, they'll be able to get closer to their demands in a mid-season trade.

I think KD is still an elite scorer but he can no longer punish double teams like he used to and his defense is no longer elite. Add in his injuries, games missed over the past 8 seasons and the fact he'll start the season as a 34 year old and the Nets IMO will either have to keep him or lower their asking price by more than 50%.
NBA GM's aren't idiots (for the most part). Sometimes they will gamble for a chance at a championship now because some fans are so demanding--Lakers, Nets, and Knicks. But I am not sure any GM is going to want to put out that much for Durant. He is aging and he had an Achilles rupture--which is more often than not career-ending for older players.
It will be interesting to see what offer sheet Ayton gets. We have not seen the Suns say "we will match whatever he gets." When McD did that, his purpose was to discourage offers but it really alienated the player. I would guess the Suns are encouraging offers in the hopes that they get a good sign and trade offer. If not, you have to match. You cannot let an asset like that walk. If they want to trade him, they can match and then move him at the trade deadline.