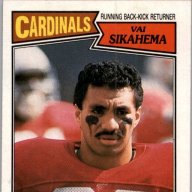 Joined

Dec 27, 2008
Posts

5,628
Reaction score

6,173
Location
I just can't take the O line blame.

"Kyler got sacked! This O line sucks!".

Every QB gets sacked. Every QB gets multiple pressures. Defenses have evolved to focus on pressuring the QB as the game has gone pass heavy.

Kyler is 23rd in the league for pressure at 19.5%. Our O line has the 12th lowest pressure rate in the league. And right in line with that is Kyler's sack rate which is 11th best in the league on a per drop back basis at 5.85%.

For comparison Mahomes is 4.56% and Josh Allen is 4.17%.

And all of this is with the Chiefs game being the most pressured of Kyler's career. For the last 7 games Kyler has been a bottom 5 pressured QB in the league.

Kirk Cousins that just beat us and who is 6-1 has a 25.4% pressure rate. Jalen Hurts is 7-0 with a 20.1% pressure rate. Geno Smith is 23.1%. Mahomes 23.4%.

Keep blaming the O line just seems like cheap and easy way to try to absolve Kyler of blame when in fact the stats say he has above league average protection.

In fact Kyler is having his worst ever season with his best ever O line.
Are you seriously going to talk about pressure rates without mentioning how quickly Kyler has been getting the ball out of his hand all season? Seems like that is some important context to use.
Also, in what world is this anyone's best O line ever? We are starting our 3rd string center who was just signed off the street along with 2 other backups and some wholly mediocre guys on the right side. I am sure it's just a coincidence that the running game has been awful, too. Probably Kyler's fault somehow.