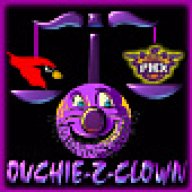 Joined

Sep 16, 2002
Posts

56,845
Reaction score

45,853
Location
That smile of Luka's is from the fact he knows he will get away with 10-20 offensive fouls per game and the refs won't call any of them on him. He's good but receives far too much help from refs. That where I lose respect for him. His unfair advantage on calls but it's not really Luka's fault that the refs do this but rather the league's fault.

Okogie is showing some signs of life and may become a valuable defensive player for the Suns. He just can't shoot well.

We all know
James Jones needs to plug that hole at power forward if only he could get that. Torry Craig has done far better than I thought he would filling in but we not going to Finals with Craig at PF unless everybody else plays insanely great. Maybe James Jones has a trade in place after Dec.15. Crowder needs to be turned for a valuable player.

Monty's hesitant to go to Ayton even when he's hot makes me believe that Ayton will be gone at the trade deadline. Not a big fan of Monty anymore. I think the Suns are winning not so much because of Monty but rather in spite of him. Go Suns!!
Naw you don't go to the finals and then win the most regular season games going away if you're winning despite your coach. Monty definitely has his flaws but he's an excellent coach. He may just not have a bench coach that fills in his gaps well (willie green anyone?). This might be a scenario though where they have to find the next coach to take that next step like collins-to-Jackson or whitehead-to-Riley. Problem is (a) who is that next guy - guess wrong and the franchise likely tumbles back some; and (b) you don't have a lot of time if you believe Paul is necessarily part of a championship run.