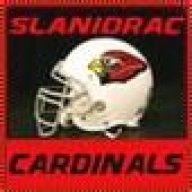 ASFN Icon
Supporting Member
Joined

Jul 11, 2002
Posts

13,632
Reaction score

11,323
Location
It's a shame. No matter who we hire 1/2 of us won't even give them a chance. No matter who we hire it will be deemed our 12th choice.
Hire the OC and we are going to point as a rookie head coach. What has he done? The comparisons to Kliff will linger.
Hire the DC and once again he will be a rookie head coach. Here we go again.

I believe VJ will be retained as our DC as will most of his staff. If we hire the Aramona he will look weak right off the bat by not demanding his own staff. How is he going to develop Murray? But we will be told about how VJ's familiarity will be a benefit and of course our new head coach will be 100% on board with this.
If we hire Kafka he too will look weak accepting the current staff. There will be less questions on the future development of Kyler. It will appear to be set up just like it was with Kliff where Kafka will focus on the offense and let VJ do his thing.
We have dissected this hunt every which way. If VJ is " forced" on the new head coach I think it will be scrutinized as a big reason why the experienced head coach candidates went in another direction, true or not.
I really feel bad for the guy that's hired. Most will look at this a mistake. Many will not be looking without a preconceived opinion.
Even though many of us deem this season as a down year we will forget all about that belief as the losses pile up. We will regurgitate the "I knew this guy sucks" narrative. We will forget about the ineptitude of Kingsbury and some will say we should have kept Kingsbury especially if we lose early with a couple of blowouts.
If Payton was named our head coach he would get a LOT more leeway than either one of the 2 candidates remaining.
Sorry, but as fans we are brutal. We will not be satisfied with Incremental improvements. It's just reality. If we are 2-6 at the halfway point of the season, many will start digging the grave.
The new guy is not going to start on top of the rock. Much of the media and many of the fans will put him under the rock.
Listen to the radio. Read this forum. The new guy doesn't stand a chance.