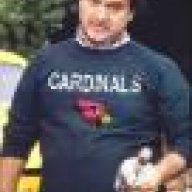 Hold onto the ball, Murray!
Joined

Dec 30, 2002
Posts

36,899
Reaction score

18,633
Location
Omar Khan is an em-effing magician, trading bustola Kendrick Green--worthless 3rd round center turned h-back/TE--for a 6th round pick. That he got any draft compensation at all is a miracle. It's like us getting something for Buster Davis. The only splash plays this guy made were for the other team. He also got draft pick trade ups in two consecutive drafts for Kevin Dotson. He wasn't as horrific as Green, but he was another do-nothing guy with absolutely no splash plays.

Meanwhile, we're getting a 7th for a guy who has had splash plays and is a 1st-round reclamation project, whom we just paid millions of dollars to, and trading for a QB we could've just signed without giving up anything. The worst is that we got only a trade up in lower round picks for a guy who had some quality starts at OL compared to getting a 6th for a guy who is worlds worse.

Omar Khan is showing Monti up big time. Monti haes been godawful in non-draft trades. He's been godawful in FA (where Omar Khan has been a wizard without breaking the bank). He's been godawful by losing draft capital to tampering. Not a good start so far, IMO.