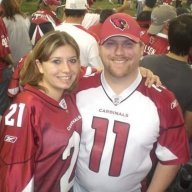 Joined

May 15, 2002
Posts

25,166
Reaction score

30,178
Location
Ok, grab the torches and pitchforks, here we go. This is my best estimation into what I think happens.

1 - Jacksonville - Trevor Lawrence - QB - Clemson
*Pretty standard here. Best QB. Position of need.

2 - San Francisco - Zach Wilson - QB - BYU (TRADE w/ NY Jets)
*The 49ers have been aggressive in pretty much every element they deem as important. I believe they do what they feel is necessary to get a top QB.

3 - Denver - Trey Lance - QB - North Dakota St. (TRADE w/ Miami)
*Elway moved out of his spot because he needs to fix the QB situation and hasn't been able to do it. Lance fits the weather in Denver, can sit a year behind Drew Lock, and gives Fangio more time.

4 - Atlanta - Penei Sewell - OL - Oregon
*I'm not sold on Atlanta moving on from Matt Ryan and I know they need to upgrade their offensive line. Sewell gives them a great opportunity to do so.

5 - Cincinnati - Rashawn Slater - OL - Northwestern
*They are going to protect Burrow and it doesn't really matter if the move Jonah Williams or not, Slater can fit at multiple spots.

6 - Philadelphia - Jamar Chase - WR - LSU
*Definite need position for them and one of the best players in the draft. Where fit and grade match.

7 - Detroit - Patrick Surtain II - CB - Alabama
*I just don't see them taking a WR here and Surtain is arguably the best defensive player on the board. New DC Aaron Glenn is going to like pairing Surtain with Okudah in a division where the CBs need to cover and tackle as well as have size.

8 - Carolina - Justin Fields - QB - Ohio St.
*Carolina is after a bigger fish at QB, but for now, I will pencil them in with Fields. Big and athletic he offers more than Bridgewater but doesn't have to jump in right away.

9 - Miami - DeVonta Smith - WR - Alabama (TRADE w/ Denver)
*They loved him at the Senior Bowl, and he fills a need. Very productive college WR who is little undersized but is the precision WR they lack.

10 - Dallas - Kwity Paye - EDGE - Michigan
*A perfect 4-3 DE who is also freak athlete. Will be great across from Demarcus Lawrence and excels against the run and pass. I feel like they think the offense is ready to go but the defense needs a little more talent.

11 - NY Giants - Micah Parsons - LB - Penn St.
*Can play in the middle and on the edge. I am not sure where they will want him but he fits Joe Judge and Dave Gettleman. His versatility works as well in that defense.

12 - NY Jets - Kyle Pitts - TE - Florida (TRADE w/ San Francisco)
*They traded down, sweated a little, but they get their mismatch and help for Darnold. Salah knows how tough it is to scheme vs top TEs. This will help their QB as well as give them another playmaker on offense.

13 - LA Chargers - Alijah Vera-Tucker - OL - USC
*They obviously want to protect Herbert and this adds to it. AVT is a local player who can start at LT immediately.

14 - Minnesota - Christian Darrisaw - OL - Virginia Tech.
*Athletic OT who fits their zone scheme. Fills a huge hole on the roster unless they decide to move Ezra Cleveland.

15 - New England - Mac Jones - QB - Alabama
*Bill Belichick trusts Nick Saban and Saban seems to love this kid. Cam makes it so he does not have to start right away and a loaded New England roster doesn't have many holes to fill.

16 - Arizona - Jaycee Horn - CB - South Carolina
*Physical CB who fills a need. Can tackle in a run heavy division and hold up physically with the large WRs.

17 - Las Vegas - Tevin Jenkins - OT - Oklahoma St
*Old school mauler at RT for an old school HC and GM duo. I believe they are in play for Watson/Wilson now that they have cleared some expensive OL, but they need to boost it back up.

18 - Miami - Jaelan Phillips - EDGE - Miami
*Phillips is arguably the best pass rusher in this class but he does have some durability questions. That said, the Dolphins have a bunch of picks and can take a bit of a risk here.

19 - Washington - Zaven Collins - LB Tulsa
*Ron Rivera likes LBs who can run and have size, and Collins has both. Fits great in a division with Zeke, Saquan and Miles Sanders at RB.

20 - Chicago - Jaylen Waddle - WR - Alabama
*Explosive playmaker who can impact the return game and helps the Foles/Dalton combo.

21 - Indianapolis - Caleb Farley - CB - Virginia Tech
*Farley falls a bit due to the back issues but he is a talented player and the Colts love to draft for value. They get it here.

22 - Tennessee Titans - Jaylen Mayfield - OL - Michigan
*Titans are at their best when running the ball. They missed on a RT last year, but will get it righ with Mayfield.

23 - NY Jets - Greg Newsome II - CB - Northwestern
*Big, fast, and smart player who can tackle. Salah adds a talented CB to a defense with a couple nice pass rushers.

24 - Pittsburgh - Creed Humphrey - OL - Oklahoma
*Steelers have consistently put a premium on OL and I don't see that stopping now. Humphrey fits the modern game and the division.

25 - Jacksonville - Christian Barmore - DT - Alabama
*Impact big man in the middle of the defense to disrupt in the interior in a RB heavy division.

26 - Cleveland - Greg Rousseau - EDGE - Miami
*Not a ton of holes on this roster so I think they will get a young and very athletic EDGE player. Nice complement to Myles Garrett.

27 - Baltimore - Trevon Moehrig - S - TCU
*Versatile player who can do a lot on the back end of defenses. As the Ravens try to keep up with the best teams in the AFC, reinforcing the secondary to keep it a strength works and it is a deep edge class. which they still need.

28 - New Orleans - Kadarius Toney - WR - Florida
*Sean Payton loves weapons and Toney is a weapon. Nice compliment to Michael Thomas and adds a RAC/vertical element they have been missing.

29 - Green Bay - Jeremiah Owusu-Koramoah - LB - Notre Dame
*Athletic LB they lack. Can run and cover. Is physical enough.

30 - Buffalo - Najee Harris - RB - Alabama
*A great fit for their 10 personnel. Can do everything they need on offense. Great locker room guy. Can close out games and take advantage of light boxes.

31 - Kansas City - James Hudson - Cincinatti
*Former defensive lineman, but has great feet and plenty of upside. May seem like a stretch but Reid believe in his ability to develop linemen and Hudson will have Joe Thuney right next to him.

32 - Tampa Bay - Jayson Oweh - EDGE - Penn St.
*Very raw player but is a similar build to JPP. Can be a rotational guy to start but then work his way into more reps.

Please share your thoughts. Let me know where you think I am way off or if you have questions. I am pretty happy with this one TBH.