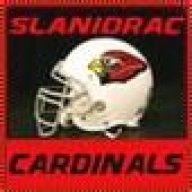 ASFN Icon
Supporting Member
Joined

Jul 11, 2002
Posts

14,223
Reaction score

12,815
Location
Not being a Debbie Downer here but it's going to take some time to win me over. We heard a lot about how marginal a team the Raiders were.

They did everything in their power to hand us this game. They went into prevent defense in the second half. They had stupid penalties especially when things started going south. They started " running out the clock" in the 3rd quarter.

I'm not taking anything away from the Cardinals performance, but it took the execution of EVERY play to win this game. And this against a team most claim is a sub-par team.

Even while winning this game we shot ourselves in the foot several times. Clock mismanagement, burning time outs and drop passes does not lead to sustainable wins. And let's face it, you cannot plan on a 60 yard fumble return to win a game.

If we miss one 2 pt. conversion the narrative on this board and media would be a whole lot different.

So forgive me if I don't jump into the Red Sea head first. I'm still in show me stage. We haven't had a damn thing to cheer about since January…technically November. They gave us an adrenaline shot yesterday and most are still on the adrenaline high, and that's okay. I'm just not quite ready to make plans for the playoffs quite yet.
Last edited: