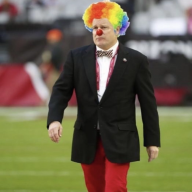 Joined

Feb 14, 2003
Posts

34,049
Reaction score

20,108
Location
People seem pretty down about this season, which seems kind of wild because we have something that a lot of people have been begging for — organizational stability at the three most important positions in a franchise:

General Manager Steve Keim. Keim's first- and second-round picks have been pretty trash his entire time here. His marquee free agent signings rarely last more than 12 months. He looks like a thumb with a face. But he's managed to pull this roster down to studs and rebuild it twice now, both with stopgap veteran QBs who outperformed their contracts and draft status and a risky, unique QB prospect. He manages to keep his failson owner in the spotlight without having him meddle (too much) with the actual football operations. He's a B- GM.

Head Coach and Offensive Playcaller Kliff Kingsbury. It was always unreasonable to believe that Kingsbury was going to land in the NFL and transform offensive football. He wasn't transformative at Texas Tech — he just put a handsome face on an Air Raid offense designed by weirdo Mike Leach. It drives a lot of fans crazy, but Kingsbury put the responsibility for team failures on himself and puts a relentless focus on how he can overcome challenges. He systematically identifies his major weaknesses each offseason and works to bolster them. It is time that he adapts more dynamically to the challenges created by opponents and his own enigmatic quarterback, but he's a B+ head coach.

Starting Quarterback Kyler Murray. A lot of people including me will be Big Mad about Kyler's contract, but in two or three years it's going to seem like (and be) a significant bargain. Kyler is a unique and (maybe) difficult personality to really get behind, but from play to play there's no more electric athlete in the NFL. Kyler is willing to put in work in the offseason and has a passion for winning — even if reasonable people can disagree about how he chooses to direct that energy. He has elite arm talent, elite accuracy, and elite athleticism for the position. He needs to learn how to weather adversity and not panic during situational football moments like the two-minute drill. He's an A- quarterback.

Aside from the promise of having an above-average leadership group for the next three to five seasons, here are five things I'm excited about for 2022:

1. Rondale Moore Year 2. The last three-quarter's of Moore's rookie season were pretty trash. But in his first five games the mighty mite wideout was on pace for over 1000 yards from scrimmage. He had over 100 yards receiving in his second professional appearance.

2. We might really have a tight end now. The Cardinals haven't been settled at Tight End since they've been in Arizona except for a short time when Jim Dray was clearly the league's best player at the position. Real ones remember thinking that Freddie Jones solved the problem. Zach Ertz represents the latest hope — just ignore that he had a negative DVOA and was 32nd in DYAR.

3. Hard-shell defense. There's a chance that J.J. Watt and Zach Allen stay healthy and this defense is one of the best in the NFL. There's a greater chance that this defense remains fairly soft and error-prone in the front-seven and Byron Murphy, Budda Baker, Jalen Thompson, and Marco Wilson create a last line of defense that becomes difficult to come back against once the offense goes up by two scores.

4. Red Raid pouring down. People don't believe that Kliff runs an Air Raid offense, although I think we can all agree that he seems to want to spread the field (no one runs more 4 and 5 WR sets than the Cards) and he wants to play with high tempo to reduce the amount of adjustments opponents can make. It's extremely exciting when Kyler and Kliff are rolling and the offense is moving quickly down the field. I think one reason the passing game hasn't been more dynamic is that we haven't had the personnel to attack down the field the way you'd want. Hollywood Brown has shown to be productive at all three levels in the NFL, and could open up more gaps in coverage if Kliff and Kyler are willing to attack outside areas more aggressively.

5. Young pass rushers. Chandler Jones has held down one of the OLB positions for so long and so consistently it's difficult to remember a time when the Cards were depending on a few young studs to emerge to put pressure on the QB. In 2015 the Cards deployed Rookie second rounder Markus Golden alongside emerging third-year player Alex Okafor.