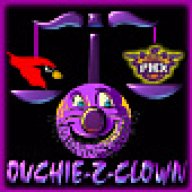 Joined

Sep 16, 2002
Posts

39,272
Reaction score

22,316
Location
I watch the games and then read the game threads after. It's usually a hoot.

Takeaways here.

1. Not having Kawhi in the game is a bummer. I usually don't care about this, but it just leaves that little bit of doubt in the minds of the Suns should they face the Clips in the playoffs. But it's out of their control. You have to play the teams you face. So this was taking care of business.
2. Frank has earned a spot ahead of Saric. He plays solid big man ball but has a nice three to go with it. Frank is not athletic but uses his size and is even playing decent D. We are better when he is in the rotation.
3. Cam Payne seems to be gaining confidence with each game. He is a potential starting pg somewhere soon. Probably not a starting pg on a championship caliber team but more than a back up. Hope we can keep him this summer.
4. People keep saying that Ayton doesn't know how to block out on rebounds. He does. I watch him do it all the time. Its just that when he doesn't do it, its so easy to see. He has good long stretches and then seems to forget for an entire game. Its weird.

I am still adjusting to the idea that we are going to the playoffs. Hasnt sunk in yet.
watching the clippers post game that's all they could talk about - how the suns couldn't beat a full clippers team in a 7 game series. They'd talk for a minute about what actually happened in the game but couldn't help themselves but keep returning to "yeah but . . . full team . . . 7 game series." I smirking about them being poor losers. I'm not saying they're wrong. I hate a matchup with them. But the fact they couldn't just admit the defeat was lame and comical.