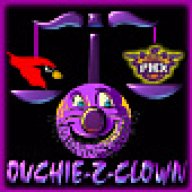 Joined

Sep 16, 2002
Posts

38,093
Reaction score

20,919
Location
You say that, but if it's Utah we go against - Those are 2 road games, and if we really are the better team we can still win the series just like the Clippers were going to do till Kawhi got hurt.

I still give us a punchers chance of winning 1 game without him, would just take other guys performing well.
I understand where you're coming from, I just don't think we're built for that. Those other examples we've seen this morning have been superstar-driven designs. Lebron taking over. Jordan taking over. Durant taking over. If we were going to win it all this year we were going to do so more as a turbocharged Detroit pistons type team (either Thomas or billups squads) where the sum of the parts overwhelmed the superstar teams. If we are down a crucial part I think our sum suffers more greatly than the teams where the superstar had to go, was capable of going, and actually did go supernova.