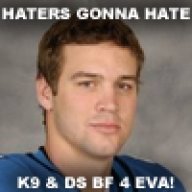 Joined

Apr 30, 2003
Posts

30,484
Reaction score

4,846
Wide Receiver:
I am going to skip over the annual Boldin debate right now, and talk about who are our current locks on the roster. Larry Fitzgerald is going to flourish under Matt Leinart (read it again if you need to) because Leinart and Fitzgerald are going to play pitch and catch off the play action pass this year. I think Leinart throws a better jump ball than Warner did, and Fitzgerald will benefit from it. It is a given that Breaston is going to be given a very high tender as a RFA, and I would assume the Cardinals match any offers that Breaston may be given, it may even spur a contract extension. Breaston's RFA situation is going to effect Anquan Boldin's situation the most out of any other issue this off-season. I for one, think it would be madness for the Cardinals to let anything happen to Breaston this off-season, "The Bad Guy", improves every year, has great hands, and absolutely zero fear. Yet, if another team is willing to give up a 1st round pick on him, is it worth it? I personally find that a tough question and situation, and I enjoy watching Breaston so much that I would think it best that the Cardinals do what it takes to keep him in AZ. As for the idea of Breaston becoming our #2 WR, I have absolutely no problem with that scenario. I think he has shown he can do the job, and well. If there was any question before, there should be none now about Early Doucet and his place on this team. Doucet plays three times his size and while his hands can be questionable, but his ability to run after the catch is not. Doucet will have a nice role as the possible 3rd and definitely 4th receiver with the Cardinals. Jerheme Urban is not coming back because Doucet is by far the better receiver, and I have not seen enough from Urban to justify a roster spot. Even if Boldin is not a Cardinal next year, Urban will have to fight for a spot, and will only justify the lowest tender available. As for Sean Morey? He is gone. LSH has made him expendable and the Cardinals will FINALLY only carry 5 WR's next season, and I see no need to waste a roster spot on Morey, whom I respect and thank for his services but it is time to move on.
"We are a better team with Anquan Boldin" That is Whiz's statement whenever Boldin's name is brought up. I completely agree, 100%. You can throw all the stats, records, and whatnot at the situation that you want, but I will never agree that the Cardinals are a better team without Boldin on the field. Boldin has great hands, amazing talents with reading defensives and finding holes, still has good ability running with the ball after the catch, blocks very well and regardless of what the media and the hype says is a leader in the locker room. But we must realize the business, and the hard reality of the NFL. Boldin is 30 years old, has some lingering health issues, and is in the final year of his contract. A player with his size, awareness, and blocking ability will be valuable for at least another 4 years, but you start to question the value. Boldin is a great WR and that is just not debatable, but is he one of the best in the league? Should he be paid like Larry Fitzgerald? As much as I respect the guy, I don't think so. Boldin is a Rosenhaus victim. Boldin accepted a contract at the wrong time in his career because Rosenhaus gave him horrible advice, and thought as an agent he could get any deal done at any time. The Cardinals benefited from this horrible decision by getting Boldin through his peak years for a discounted price. Luckily Boldin is a man with great pride and his production on the field didn't slip even though he was not being paid to the standard that WR of his skills should have been. Can't blame the Cardinals, they offered said contract, and stood by it, unfortunately Boldin was a victim of Rosenhaus and his ridiculous, and delusional business practices.
As for next season? Until I hear otherwise, Boldin is on the Cardinals roster for the 2010 season. It would be downright foolish for the Cardinals to move Boldin unless they get a deal that is worth his value. The philosophy of "losing Boldin and not getting anything in return" is downright foolish. To trade a talent like Boldin for no other reason, then to try to just get something back, even if it is vastly under what Boldin is worth is a route only losing franchises take. Personally, I think the absolutely minimum offer would be a high (Top 10) 2nd round pick, and ONLY IF, there is a player that would be of high value at that position in the draft. As for a player for player trade, I would be very surprised to see such a thing happen. It would have to be for a pass rusher, or I don't see it happening. Contrary to popular belief, I can see the Cardinals talking to Boldin about an extension, I would not understand why they would not look into that scenario. I WR core of Fitzgerald, Boldin, Breaston, and Doucet would be deadly, and there is no crime about having too much talent at one position. Finally, if all else fails, Boldin will just play out his contract, and be left to go into free agency in 2011, and to say at that point we get nothing after the career Boldin has had in AZ would just be foolish.
Now, as for changes in the roster, and possible pickups? If Boldin stays we have 1 open spot on the roster, and if Boldin leaves we will have 2 open spots on the roster. The Cardinals already have two projects under contract in Ed Gant, and my sleeper of 2010 Onrea Jones. Ed Gant is going to have to really battle to find his way on the final 53, not to mention the practice squad, unless he can return punts and kickoffs. I really like Onrea Jones, and so must the Cardinals. If Boldin leaves, there is a chance Jerheme Urban will be brought back, but he is going to have to fight off Onrea Jones, whom I believe can play at the NFL level, and would have a good shot at making the team as a 4th WR.
Finally, the 5th WR spot. This is going to someone that can not only play special teams, but return kickoffs and punts. Whether it be a free agent acquisition, Jerheme Urban, a late round draft pick, or a UDFA I would assume this spot will be given to a returner, especially one good at returning punts.
Free Agent Possibilities:
- Courtney Roby [RFA]
- Domenik Hixon
Both these players are more returners than receivers. I really like the thought of bringing Domenik Hixon in for a look. He plays special teams, can return kicks and has the receiving skills that are at about Urban's level. I doubt Courtney Roby will see free agency, but the Saints have MAJOR decisions to make and Roby might slip through the cracks. Still he is a return specialist and special teams player only, at least from what I have seen and heard.

Draft Possibilities:
- Brandon Banks, Kansas State - 5'7" 155lbs - (Round: 4-6)
- Trindon Holliday, LSU - 5'5" 161bs - (Round: 4-6)
- Antonio Brown, Central Michigan - 5'10" 179lbs - (Round: 5-6)
- Chris Carter, Cal-Davis -6'1" 204lbs - (Round: 6-7)
- Thomas Harris, Alabama -5'11" 172lbs - (Round:6-7)
While last year's draft was a barren waste land when it came to returners this year there seems to be a nice handful of returners coming out that can be had in the lower rounds. The two vertically challenger players that are at the top of this list are absolute blazers but as noted, they are physically very small and would bring nothing to the game as receivers. The same goes for Antonio Brown, and Thomas Harris whom are returners, and without the speed the aforementioned players have. The best prospect out of all of them, in my opinion, is Chris Carter who not only can return kicks, but has some receiving skills, and size.
Part 1:
Offense, Coaches and QB's - Link:
http://www.arizonasportsfans.com/vb...10-part-1-offense-coaches-and-qbs-148519.html
Part 2:
RB, FB, TE - Link:
http://www.arizonasportsfans.com/vb...-preview-2010-part-2-rb-fb-amp-te-148518.html
Part 3:
Wide Receiver - Link:
http://www.arizonasportsfans.com/vb...preview-2010-part-3-wide-receiver-148517.html
Part 4:
Offensive Line - Link:
http://www.arizonasportsfans.com/vb...review-2010-part-4-offensive-line-148516.html
Part 5:
Defense & Defensive Line - Link:
http://www.arizonasportsfans.com/vb...part-5-defense-amp-defensive-line-148515.html
Part 6:
Linebackers - Link:
http://www.arizonasportsfans.com/vb/f4/arizona-cardinals-preview-2010-part-6-linebackers-148514.html
Part 7:
Defensive Backs - Link:
http://www.arizonasportsfans.com/vb...eview-2010-part-7-defensive-backs-148513.html
Part 8:
Special Teams & Summary - Link:
http://www.arizonasportsfans.com/vb...-part-8-special-teams-amp-summary-148512.html
*** A full copy of the entire post is available as an attachment to Part 1: Offense, Coaches and QB's
Last edited: