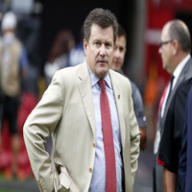 Joined

Oct 7, 2003
Posts

12,365
Reaction score

5,214
Location
This is 100% fantasy. It's another attempt to pass blame onto the "insert things I don't like here*.
Ya mind referencing the whole paragraph where I put part of the blame on Kyler? And what's to like about Keim and Kliff? You take Mahomes and Arians off their resumes (and neither of which they accomplished all that much with) and those two bums wouldn't get hired to be the Cardinals team janitor.
Kyler barely played at A&M and only played one season at OU. "He was great at Allen and OU where they had dominant talent" is not a ringing endorsement.

It doesn't explain in any way going from 5-10-1, to 8-8, to 11-6 under same coach, same GM, same owner and showing steady but minor improvements each year himself to the absolute abysmal, bottom of the league QB play we have seen this year.
You must be new around here, this organization has had glimpses of competence every so often since I've been following until it quickly falls apart within a few short years. Mostly because we are always hanging on by a thread, ie we NEED one player or coach or whatever to succeed and without that person it simply all falls apart. Been that way forever with the Cardinals. That's because of the team's culture. And you'll note that the only streches here where we won football games football mostly coincided with Kyler playing at an elite level. Both he, the coach, and the organization have no counterpunch.
If, as you say, Kyler can only be good was he has the right HC, right scheme, right GM, great O line, great WR's, insert whatever you like here then what's the point of him?

Any QB can be good when everything around him is good. Andy Dalton has done that. Carson Wentz has done that. Joe Flacco has done that. Cam Newton has done that. Jared Goff has done that.

That's the path Kyler is currently on.
I never said that, I said he needs the right culture. Nothing to do with x's and o's or talent. You seem to think coaching is just about drawing lines on paper or picking the right players when that's really just a minority percentage of it. Although anyone who thinks we ever surrounded him with above-average league talent or winning schemes is deluding themselves. Keim has never built an elite top to bottom roster nor has Kliff coached winning football in each of their entire careers.
If we have to wait for Mercury to be in retrograde over Jupiter for him to be good why pay him like a top 5 QB? You pay that money to QBs that elevate those around them. That find ways to win tough games.

Kyler simply doesn't. I absolute believe he could. If he put the work in.

The worst thing about Kyler this year is he's as bad now as he was game 1. All the things he's struggled with then he's still struggling with now. That tells me all I need to know about his attitude.
Well, we already paid him so that ship has sailed.
And for the record, since the narrative has become that Kyler is lazy, just know there's just as many people around football who say the opposite. This board and the media need to be intellectually honest in acknowledging this. The truth is somewhere in the middle of course, however it should be said that if you polled 100 people around the league and asked them if they had to choose one between Kliff, Kyler, and Keim to be a part of their franchise that every single of them would pick Kyler.
Last edited: