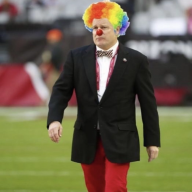 Joined

Feb 14, 2003
Posts

33,971
Reaction score

19,847
Location
And there are franchises who have enough organizational stability where they can trade down and get maximum value out of those additional picks. I don't believe we are at that point as an organization especially in an off-season where our scouts spent the year scouting for a scheme that we no longer use. Our scouts have spent the year scouting defensive players for a 3-4 scheme and soft-zone CBs. Now, we are a month and a half into a 4-3 scheme and the team has to try to translate those notes into 4-3 fits.

The other issue is that there are so many roster holes or just talent deficient groups that a trade down looks best because holes are being filled with hope.
I actually don't believe you ever get value from trading down and out -- at least, not in the way that people are talking about it here. I hear people saying that instead of getting one foundational player at #3 overall, we should get three foundational players at, like #12, #56, and #70 (for example).
It just doesn't work like that. A team needs four to six foundational players at any time. These are the guys on max contracts plus young players who worked out. The question is how many of these guys are on second or third contracts vs on rookie deals.
If you have the majority of these guys on second (or third) contracts, you want to trade down because you need to fill out your red-chip players with guys on rookie contracts. You can only have four players making $15 million a year or more. This is where you find savings.
If you have the majority on rookie contracts, you want to spend your resources on mid-level free agents to accelerate their development curve and the additional flexibility of the rookie scale.
There isn't a lot of competitive logic to minimizing your opportunity for franchise-defining talent when you arguably have only one or two franchise-defining players on your roster (Murray and Budda -- assuming we move Hop).