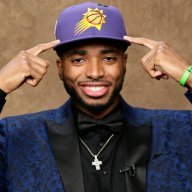 Joined

Oct 24, 2002
Posts

21,345
Reaction score

5,575
I'm beginning to think Ayton just isn't smart, he doesn't understand how the ball will come off the rim. This is an extreme example, but Rodman studied a lot of film to see how different shots come off the rim. Ayton's just been about his physical gifts and does nothing to become greater than that.

And we know mentally he's a midget. Look at who he got the 15 rebounds on, the Nets and Pistons, who have centers ranked probably in the 25-30th spot for starting centers.That's the only time he lights up when he plays guys well inferior. Anytime he goes up against a well know center he usually underperforms and just flat out doesn't try harder.
Think about it. DA gets double digit rebounds in his sleep. If he is just to dumb to get rebounds, then why does he get so many rebounds. Last night was an aberration. Maybe he was just too dumb LAST NIGHT to get rebounds.
He just seems focused and intense some nights and other nights he is in "don't worry, be happy" mode.
He just doesn't hate losing as much as Book and CP3 do.