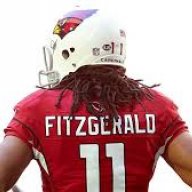 Crawled Through 5 FB Fields
Joined

Aug 10, 2005
Posts

13,405
Reaction score

2,982
Location
1
DE
TACO CHARLTON
MICHIGAN
BIG TEN
You must be registered for see images attach
?
4.92 SEC
25 REPS
33.0 INCH
116.0 INCH
7.17 SEC
4.39 SEC
6'6"HEIGHT
34 1/4"ARM LENGTH
277LBS.WEIGHT
9 3/4"HANDS
OVERVIEW
Vidauntae "Taco" Charlton continually improved during his Michigan career. The first-team All-Ohio selection "crossed the border" from Pickerington, a Columbus suburb, to play for the Wolverines (along with tight end Jake Butt). He played mostly on special teams as a true freshman (two tackles), then saw his playing time increase in 2014 (19 tackles, 5.5 for loss, 3.5 sacks, one start). Though Charlton started just three games as a junior, he was a strong contributor on passing downs (30 tackles, 8.5 for loss, 5.5 sacks). Everything came together for him in 2016, garnering first-team All-Big Ten honors after leading Michigan with 9.5 sacks among his 13 tackles for loss.
ANALYSIS
STRENGTHS
Rare combination of size, length and athletic traits as a rusher. Long-levered frame with athletic, knotted calves. Brings freaky athletic traits to table and is still growing into his body. Flashes instant reaction time off snap and up the field thanks to his twitch. Has enough upfield juice to push offensive tackles into hasty retreat. Generates pop through speed-to-power element. Very good flexibility throughout. Able to sink and swerve around corner if he gets early lead in race to the edge. Possesses hip swivel combined with shoulder turn to slip and flip around the corner of an offensive tackle he's engaged with as a pass rusher. Rushes with forward lean that keeps his momentum downhill. Uses rip-and-stab move and an ominous spin move that could turn into a dominant rush trait in the NFL. Elongated lateral slides can open into sprint very quickly to chase run play bouncing outside. Length gives him a shot at dramatically increasing his play-making ability against the run. Hand usage is improving.
WEAKNESSES
Despite talent and traits, production and overall play has been uneven at Michigan. Earned full-time starting nod in just his final season. Needs more weight-room work. Consistency of anchor at point of attack in question. Can be rooted out of his gap by power. Can do better job of using his length to keep blockers off of him. Doesn't make enough plays on other side of the line against run. Needs to show a nastier play demeanor at all times. Scouts question whether he has enough toughness for trench battles if bumped inside or to 5-technique. Held back by his inconsistent play speed. Excessive leaning and narrowing of his base during the play causes balance and footwork inconsistencies. Needs better readiness to take on move blockers.
SOURCES TELL US
"Really, really talented player. You won't always see it on every play so that is going to be a coach's job to get that out of him. Rushers with his size and athleticism are hard to find and they usually go very early in the draft." -- AFC executive
NFL COMPARISON
Chandler Jones
BOTTOM LINE
"Inconsistent" has been the buzzword that has followed Charlton since coming to Michigan, but he began the process of shaking it during his senior season. Charlton is an ascending prospect with the size, length, athleticism and pass-rushing potential that NFL general managers dream of. What you see today might not be what you get. While his production coming out of college will be modest, he could become a substantially better player as a pro if he's committed to the weight room and willing to absorb coaching. High-impact defensive end with all-pro potential is his ceiling. His floor is solid starter.
2.
S
JUSTIN EVANS
TEXAS A&M
SEC
You must be registered for see images attach
?
6'0"HEIGHT
32"ARM LENGTH
199LBS.WEIGHT
9 3/4"HANDS
ANALYSIS
STRENGTHS
Tremendous athlete who was heralded as a baseball pitcher, and receiver and defensive back in football coming out of high school. Has feet and hips for easy toggle between backpedal and angled shuffle as high safety. Ball skills of a slot receiver. Plays with excellent passion for the game. Can snare at the highest point thanks to well-timed leaps, great arm extension and supple hands. Big accelerator to close out crossing routes and disrupt the passing lane. Very good plant-and-go twitch. Looks to make plays taking aggressive routes to the ball. Logged four interceptions and seven pass breakups as a senior. Fast with ability to range over the top from high safety. Seeks out collisions and doesn't shrink from contact. Completely laid-out Alabama's Derrick Henry during hit in 2015 game. Wrap-up tackler who explodes into target and runs his feet through the finish.
WEAKNESSES
Needs improved eye-balance. Has issues splitting focus between ball and man. From second level, hyper-focuses on receiver keys and is late finding running back headed his way. Aggressive nature could make him a play-action target on pro level. Instincts dwindle the further away from line of scrimmage he goes. Inconsistent seeing and breaking on throws from high safety. Needs to come to balance in tackle-ready position more quickly on third-level stops. His heart is bigger than his body. Needs more bulk to withstand fallout from his physical play. Gets stuck to blocking tight ends from slot and struggles to unglue.
SOURCES TELL US
"His interception against UCLA at the beginning of the year was one of those plays that not many safeties can make. But I'm worried about his missed tackles. Hard hits are great for Sportscenter or YouTube but getting guys to the ground is top priority." -- Front-office executive for AFC team
NFL COMPARISON
Karl Joseph
BOTTOM LINE
Soft-spoken but carries a walloping stick. Plays the game with an elevated sense of urgency and excitement. He is a little undersized, but has plus speed, is an extremely physical hitter and can play deep or near the line of scrimmage. Athleticism and ball skills might lead a team to test him out as a slot corner. Regardless of where he plays, he has the talent to become a plus NFL starter and a potential Day 2 (Rounds 2-3) draft selection.
3
PRESENTED BY
RB
JAMES CONNER
PITTSBURGH
ACC
You must be registered for see images attach
?
4.65 SEC
20 REPS
29.0 INCH
113.0 INCH
6'1"HEIGHT
31 1/4"ARM LENGTH
233LBS.WEIGHT
9 7/8"HANDS
OVERVIEW
Conner has become one of the best stories coming out of college football the past couple of seasons, overcoming a diagnosis of Hodgkin's lymphoma to return to the field. He won the Disney Spirit Award and the ACC Brian Piccolo Award as rewards for beating cancer, but his best accomplishment was earning first-team all-conference recognition by carrying the ball 216 times for 1,092 yards and 16 touchdowns this season. Doctors found the issue while Conner was trying to rehabilitate a torn right MCL that forced him to miss all but the opener of the 2015 season. Conner made a name for himself by racking up 1,765 yards and 26 scores as a sophomore, garnering second-team AP All-American and ACC Player of the Year honors. He ranked third in the FBS in rushing yards despite being hindered by a hip injury the final two regular season games. In his true freshman season, Conner came on late, setting a school bowl record with 229 yards against Bowling Green as the Little Caesar's Bowl MVP (he had 799 yards, eight TDs total on the year.)
ANALYSIS
STRENGTHS
Team captain known for incredible resilience and mental toughness. Leaned down and added more muscle mass this season. Arm tackles are a waste of time. Carries heavy momentum behind pads at finish. Drops shoulder to punish final tackler. Uses wicked stiff-arm to punch and swat tacklers to the ground. Creates for himself through brute force. Natural power in lower half. Doesn't need a clean point of entry for aggressive, downhill charge. Excellent contact balance despite heavy shots on his legs. Short-yardage specialist who can move the chains and score touchdowns. Willing to leave his feet and sacrifice body near goal line. Willing blocker in pass pro and showed ability to come out of backfield in wheel routes, swing passes and outs.
WEAKNESSES
Needs a clean slate of blocks to consistently make his way around the corner on the next level. Could struggle to accelerate from tacklers if he gets too cute. Runs with stiff hips and heavy legs. Lacks quick-escape athleticism for sudden shake in open field. All power, no finesse. Early defensive penetration short-circuits his run. Average lateral movement and not desired amount for every-down back. Can be a little slow to process moving parts in front of him. Not a press-and-cut back and needs to learn to set blocks up better. Hands a little stiff as pass catcher and will fight the ball at times. Tape shows occasional confusion in blitz pick-up. Medical concerns will continue to follow him.
NFL COMPARISON
T.J. Duckett
BOTTOM LINE
Physical, battering-ram style runner who makes the hitting a two-way affair. Conner's lack of speed and reactive quickness could limit his role as a pro, but his heart, work ethic and ability to keep the chains moving could make him a red-zone specialist with the ability to handle some third down duties as well.
4.
ANTHONY WALKER JR.
NORTHWESTERN
BIG TEN
You must be registered for see images attach
?
4.65 SEC
23 REPS
30.5 INCH
116.0 INCH
7.23 SEC
4.34 SEC
6'1"HEIGHT
30 3/8"ARM LENGTH
238LBS.WEIGHT
9 1/2"HANDS
OVERVIEW
Middle linebackers usually aren't made part of a hype machine, but Northwestern got the word out on their defensive leader by promoting him as "The Franchise." The first-team All-Florida pick from Miami Central chose to go north to play ball, He redshirted in 2013, then started seven games in the middle of the following year (51 tackles, team-leading nine for loss, two INT-one for a score). Walker was a first-team All-Big Ten and third-team AP All-American in 2015, leading the team with 122 tackles (16.5 for loss). He wasn't as productive in his second-team All-Big Ten junior season (105 tackles, 10 for loss), but he decided to leave for the NFL regardless.
ANALYSIS
STRENGTHS
Carries NFL thickness throughout his frame. Adequate straight-line pursuit speed. Flashes burst gear to close out runners looking to get the corner. Smart player with excellent work ethic. Considered a great teammate and leader. Instinctive downhill runner, and productive. Always looking to play tackles near the line of scrimmage. Works around second-level blocks with limp inside shoulder and upper body turn, causing blockers to miss the target and fall forward. Able to adjust path to the ball in space. Instinctive with good peripheral vision. Outstanding field awareness. Urgent helper on wide receiver screens and hitches. Plays with balanced eyes in coverage, darting between his coverage area and the quarterback's eyes. Crowds target in his area, but willing to come off and hustle to a passing lane if he reads pass. Has 16 passes defensed over his three years.
WEAKNESSES
Has some stiffness in his movement. Has been too muscle-bound and tight at times during career. Got too big, too fast. Missed tackle total on the high side. Comes downhill with some rigidity in his feet that prevent quick, lateral shifts. Sluggish to redirect his weight to mirror shifty runners in the hole or in open field. Should continue to work on functional flexibility. Will need to meet lead blocks with better knee bend and more force. Take-on skills need work. Feet are ahead of his hands when taking on climbing linemen. Allows blockers into his frame rather than punching and maintaining distance. Struggles to play off blocks. Can be obliterated and erased from his gap by angle blocks.
SOURCES TELL US
"He is playing way too heavy right now, and I don't think he's in the shape he needs to be in. But, hey, he's always productive and he plays in a physical conference, so that's a plus. He can run but he's not a great athlete. I think he'll be a much better player if he plays around 230." -- Director of scouting for AFC team
NFL COMPARISON
Kiko Alonso
BOTTOM LINE
Has packed muscle onto his frame that looks good in the uniform but might be limiting his flexibility and athletic ability. A productive, downhill linebacker who misses too many tackles and struggles as a take-on player. He checks all the desired boxes for football and personal character and can be counted on to do what it takes to improve his game. He could become a decent starting linebacker within his first few years.
5.
CB
DAMONTAE KAZEE
SAN DIEGO ST.
MOUNTAIN WEST
You must be registered for see images attach
?
4.54 SEC
11 REPS
34.0 INCH
124.0 INCH
5'10"HEIGHT
30 7/8"ARM LENGTH
184LBS.WEIGHT
8 5/8"HANDS
OVERVIEW
Coming off a 2015 season where he tied for the second-most interceptions in the FBS (eight) and was named Mountain West Defensive Player of the Year (75 tackles, seven pass breakups), Kazee strongly considered entering the 2016 draft as an underclassmen. He returned to San Diego, however, to finish out his career -- and again was named the conference defender of the year and first-team all-conference pick. Kazee again tied for second in the nation with seven interceptions, breaking up eight others. His playmaking abilities started as a true freshman, when he came to SDSU after his brother, Walter, finished his time with the Aztecs as a running back. He led the Mountain West with four forced fumbles and making 41 tackles despite not starting a game. Kazee moved into the starting lineup as a sophomore, leading the team with 13 breakups and intercepting another.
ANALYSIS
STRENGTHS
Good bounce in his feet for short area movement. Plays with a quick transition forward from his pedal when reacting to the route. Looks for most efficient route to the ball to disrupt the catch. Very good route awareness from zone. Can split the high-low combinations and anticipates the chosen route early. Highly instinctive with a taste for turnovers. Wants to make a play on every ball thrown his way. Posted 43 passes defensed over the last three years including 16 interceptions during that time. Active and downhill in his run support.
WEAKNESSES
Tall and a little tight in his backpedal. Unable to carry deep speed down the field. Can be beaten over the top if he's not diligent with his positioning. Can be run out of position by play-action and jet sweeps that are directed his way. Has recovery quickness underneath, but is missing recovery speed. Takes unsound angles in run support and will lose contain. Lacks size for outside and could be mismatched against size.
BOTTOM LINE
Limited by his size and his long speed, Kazee has all the instincts and ball skills that a team could want. If he fails to run well, he could drop a round or even two, but he's a good fit for teams who run zone and off man. His willingness in run support and his penchant for taking the ball away should follow him into the pros and make for an early transition into a third or fourth cornerback role.
5.
PRESENTED BY
WR
JOSH REYNOLDS
TEXAS A&M
SEC
You must be registered for see images attach
?
4.52 SEC
37.0 INCH
124.0 INCH
6.83 SEC
4.13 SEC
11.32 SEC
6'3"HEIGHT
31 1/2"ARM LENGTH
194LBS.WEIGHT
9 3/8"HANDS
OVERVIEW
Reynolds couldn't get a scholarship offer for football from a FBS school despite his manifold talents; in fact, Oregon State pulled their interest after other receivers ate up roster spots late in the process. So off to Tyler Junior College he went, receiving second-team all-conference recognition. Reynolds didn't waste any time making an impact when moving to College Station, where he was offered a partial scholarship as a hurdler coming out of high school. He led the team with 842 receiving yards and 13 touchdowns on 52 catches in 2014, the latter being a school record. Reynolds caught 51 passes for 907 yards and five scores as a junior, serving a one-game suspension for unspecified reasons. His best season came in 2016, when SEC media named him second-team all-conference because he finished the year with 61 catches for 1,039 yards and 12 scores.
ANALYSIS
STRENGTHS
Very long, angular frame. Outstanding high school triple jumper and high jumper will dominate combine explosion drills. Vertical threat who can open his hips and out-stride a cornerback down the field. As good as it gets as a ball tracker with a center fielder's ability to judge trajectory and distance. Stacks cornerbacks on his hip and keeps them there. Has access to a second gear when the ball is in the air. Routes feature little wasted motion. Possesses superior ball skills. Plus hand-eye coordination and holds his ground in contested catches. Can climbs way up the ladder and use his length to turn 50/50 balls into 80/20 his way. Consistent red-zone threat. Wins up-and-over, with back shoulder fades and with inside release to slant. Thin but ultra-competitive and extremely tough. Will work the middle and does not fear incoming traffic. Gets after his blocks on the perimeter and meets aggression with aggression as blocker.
WEAKNESSES
Has a thin frame with skinny legs. Body is unlikely to carry much more weight. Can be temporarily grounded in press coverage. Lack of play strength makes fighting past disruptive jams a challenge. Needs to improve initial footwork and vary his releases. Just average underneath. Long-strider with limitations in short-area quickness. Nothing special in hitch-and-run or wide receiver screens. Has some trouble dropping down and digging out the low throw.
NFL COMPARISON
Marvin Jones
BOTTOM LINE
Long and tall, Reynolds is a dangerous vertical threat thanks to his ball tracking and ball skills over eye-popping deep speed. Reynolds is a menace in the red-zone and can mismatch smaller cornerbacks in the air. He lacks play strength which could cause problems for him early in his career against physical corners, but his toughness, work ethic and football intelligence should overcome those concerns and help him carve out a career as a second or third receiver in the league.
6.
PRESENTED BY
QB
CHAD KELLY
MISSISSIPPI
SEC
You must be registered for see images attach
?
OVERVIEW
The nephew and godson of NFL Hall of Fame quarterback Jim Kelly has been mercurial, at best, during his college career. He was a top five high school quarterback recruit from New York and four-time National Punt, Pass & Kick winner. Signing with Clemson, Kelly redshirted in 2012 and played in five games the following year (10-17, 58 yards) despite tearing his ACL in the spring game. He had multiple blow-ups with coaches at Clemson, which led to his release from the program in April 2014. Kelly then moved on to East Mississippi Community College, and he won a national title in his only season there. Ole Miss took a chance on Kelly, and stayed with him after an altercation with a restaurant bouncer in Buffalo where he threatened to "spray this place." The signing paid off in 2015, with Kelly earning second-team All-SEC nod (4,042 yards, 31 TD, 13 INT passing; 500 yards, 10 TD rushing)and the Sugar Bowl MVP while leading Ole Miss to wins over Alabama, Auburn and LSU in the same year for the first time in school history. Kelly was named second-team All-SEC as a senior, as well, even though his career ended early due to a torn right ACL and lateral meniscus in November 2016 (306.4 passing yards/game, 19 TD, eight INT). He didn't stay out of the headlines in 2016, either, as he ran onto the field of a high school game in which his brother was playing because the young quarterback took a late hit out of bounds. Reports were that Kelly did not actually engage anyone in the melee but apologized for leaving the stands.
ANALYSIS
STRENGTHS
Good arm talent. Will make "wow" throws, especially early in games. Has shown an ability to make bold, anticipatory throws over the deep middle. Over final two seasons at Ole Miss, saw 13.6% of his pass attempts go for 20-plus yards, a higher percentage than both Deshaun Watson and DeShone Kizer. Can alter release to account for sudden shifts and movements by defense or his own receivers. Poise is good enough. Will pump, slide, and re-set his feet to make accurate throws. Can set up and fire quickly from the pocket. When he sits down on throws, will use lower body to drive the ball through his targets. Gamer with a competitive streak that runs deep. Touch throws are in his repertoire when attacking area between linebackers and safeties. Looks comfortable in rollouts and boot-action throws. Completed 66.7 percent of his passes when on the move in 2016. Shuffles to safe spots inside the pocket and is able to scramble out of pressure and find targets. Willing runner with runs of 43 and 41 yards over last two seasons. Attacks the middle of the field with accuracy and throws consistent strikes to stationary targets.
WEAKNESSES
Lacks desired size and willing to take way too many hits outside the pocket. Has worked almost exclusively from shotgun and pistol. Struggles to maintain early success after halftime defensive adjustments. Completed just 2-of-12 deep shots down the left sideline in 2016. Under-throws some deep balls when trying to pass with touch. Inconsistent air under the ball. Saw interception percentage skyrocket when throwing to left side of the field. Woeful on back-shoulder fades. When pressure heads his way, he tucks and scoots rather than stands and delivers. Has random bouts of inaccuracy on wide receiver screens and outs. Throws nose-dive on move throws. Inconsistent working through progressions. Fails to see wide-open receivers, opting instead to make his job harder. Mind appears to be racing at times. Needs to manipulate safeties with lingering glares. Considered a character concern by some scouts; kicked off Clemson team for "detrimental conduct."
SOURCES TELL US
"He's okay. I think he could be a low-end NFL starter. I just wouldn't want to put my name behind him because I think it will come back and bite you with on-field and off-field mistakes. We value leadership at quarterback and I don't trust his." -- AFC East scout
NFL COMPARISON
Andy Dalton
BOTTOM LINE
He's hardly a scouting favorite based on reputation and inconsistency, but Kelly has attributes that could make him an eventual starter in the league if his personal and football character are kept in check. Kelly's competitive nature and willingness to challenge defenses will lead to some hot-and-cold moments, but there is some talent to work with there.
7.
PRESENTED BY
OLB
MATT MILANO
BOSTON COLLEGE
ACC
You must be registered for see images attach
?
4.67 SEC
24 REPS
Top Performer
35.0 INCH
126.0 INCH
Top Performer
BLUE STAR = COMBINE TOP PERFORMER
6'0"HEIGHT
32"ARM LENGTH
223LBS.WEIGHT
9 3/8"HANDS
OVERVIEW
In recent years, Boston College football was known for the skill of its linebackers, from Luke Kuechly to Mark Herzlich. Milano, the 2012 Central Florida Defensive Player of the Year, took on that mantle the past two seasons for the Eagles after appearing in 25 games as a reserve his first two seasons on campus (23 tackles, three for loss). ACC media voted him honorable mention all-conference after his junior season where he had 60 tackles, a team-high 17.5 for loss and 6.5 sacks, two forced fumbles and two blocked kicks. Milano started on the strong side for the second straight year in 2016, earning honorable mention all-ACC nods from coaches and media (58 tackles, 11 for loss, 6.5 sacks, one interception, blocked punt).
ANALYSIS
STRENGTHS
Well-defined with muscular arms and tapered waist. Wonderfully aggressive. Heat-seeking missile who looks for contact. Form tackler looking to strike, lift, and bury. Former safety with disciplined vision and above-average instincts. Can get home as blitzer. Reacts quickly to play-action screen passes and reverses. Good straight-line speed and revved motor for extended tackle range. Has some coverage ability in space. Durable two-year starter playing more than 94 percent of his team's defensive snaps. Accelerates through contact. Speed and toughness creates potential opportunities at multiple linebacker spots. Special teams demon with three blocked punts and 24 coverage tackles.
WEAKNESSES
Needs to add a little more size to his frame. Can be outmuscled by size. Hand usage is inconsistent. Needs to improve in art of discarding blockers. Just average at punching and shedding to keep himself clean in take-on situations. Bad habit of ducking head into crunching tackles rather than seeing what he hits. Tightly wound with average change-of-direction talent. Can improve his path to perimeter to avoid traffic around him.
SOURCES TELL US
"I love watching him on tape. You just know he wishes he were bigger so he could hit even harder. He's not as good as (Brian) Cushing, but that's the same kind of mentality he plays with." -- Northeast area scout for AFC team
NFL COMPARISON
John Timu
BOTTOM LINE
Undersized for the linebacker spot, but extremely tough and aggressive. A little tight-hipped and might struggle to finish tackles that aren't right in front of him, but he brings as much pound-for-pound force behind his tackles as anyone in the draft. Productive player with good instincts and a nose for the ball. He has value as a 4-3 OLB and a 3-4 WILB, and should become a top contributor in coverage on special teams.
Strategy:
I went into tis mock with a specific purpose -- to find similar players to replace the ones the Cardinals lost via FA.
1. Calais Campbell/Alex Okafor -- Taco Charlton -- can play inside or on the edge -- has excellent length and rush ability -- makes Cardinals 4 man pass rush potentially elite
2. Tony Jefferson/D.J. Swearinger -- Justin Evans -- big-time hitter who can excel in the box and has excellent range and toughness at FS
3. Chris Johnson -- James Conner -- powerful and skilled, good receiver -- would be great compliment to DJ
4. Kevin Minter -- Anthony Walker, Jr. -- Walker is a downhill tackler and he's good in coverage
5. Marcus Cooper -- Damontae Kazee -- plays very good off-coverage, has nose for the ball, unlike Cooper he's a big-time hitter -- superb on STs
5. Michael Floyd -- Josh Reynolds -- good size, speed and 50/50 catch ability
6. Drew Stanton -- Chad Kelly -- could be the steal of the draft if he is hungry and dedicated
7. Tony Jefferson -- Matt Milano -- I think he's a SS in the NFL -- very disruptive, TFL type player