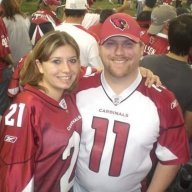 Joined

May 15, 2002
Posts

25,729
Reaction score

31,947
Location
Do you, and others, think a 4th round pick can be dismissed so easily? Seems to me that if you want to build through the draft that a team needs those 4th round selections to contribute. Every year.

I believe one of the things helping the Cards being more competitive is that they have been getting players like Greg Toler and Sam Acho instead of Elton Brown and Nate Dwyer in the 4th rounds.

Green Bay is often touted as a team that has been one of, if not the best team, built through the draft. They had six of their 4th round picks on the roster last season with four of them starters.

On the other hand it might be only picks 1-3 that are critical and anything you get out of 4-7 is a bonus. The Cards had only 4 players start for them last season taken after the 3rd round (not counting UDFA's). And, something I didn't realize until today, they had 8 former 1st round selections starting last season. 5 of ours and 3 of other teams.

Oh well, just something to discuss during baseball season.
I think that rounds 1-3 are key and 4-7 are bonus picks, but that being said, the more you miss high, the more you have to hit on the lower picks. If you are pulling 3 starters out of every draft, that is a good start. From there, anything else is great and just helps keep financial costs down because rookies are cheaper than FA vets.