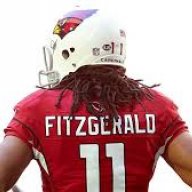 Crawled Through 5 FB Fields
Joined

Aug 10, 2005
Posts

13,405
Reaction score

2,982
Location
So here are some thoughts one week later:

1. It felt oh so good to hear and watch Roger Goodell get soundly booed when he went to the podium to start the proceedings. Here is an egregiously overpaid "master of the universe" slash tsar of the pro football world who remains vastly out of touch with the people who matter most in the NFL: the fans. Not to mention the draftees (and hopefuls), most of whom are forced to endure weeks and months of intense scrutiny and then three days of what often is an excruciating process. Moreover, it seemed very clear that the teams themselves were annoyed by the two week postponement of the draft. Not only that, so were the veterans. Peyton Manning expressed his frustration through hyperbole by asking, "Whenever the draft gets here, when is it? In September?"

2. My own particular thoughts on the draft coverage, for right or for wrong, are as follows:

* I have grown a very fond appreciation for the NFL Network, this year more than ever. Normally from 7-8 PM I have been in the habit of watching Wheel of Fortune and Jeopardy, but over the past few months I have been glued to The Path to the Draft---and for what they offered this long draft season I would award them with an Emmy. Their entire cast (most notably Daniel Jeremiah, Charles Davis, Charlie Casserly, Brian Baldinger and Curtis Conway) have an astonishingly strong chemistry and a penchant for generating insightful and passionate debate and analysis. I love the way they analyzed each team's depth charts and draft needs and how they projected players at each of the team's top three picks. Moreover, they didn't simply dwell on the most highly rated prospects---they consistently spoke about sleepers and under the radar prospects. Curtis Conway was high on Deone Bucannon from day one and had the conviction to promote Bucannon as a first round talent. Each night they offered a "First Draft" profile of a prospect that included game tape footage and interviews with the prospect---and on numerous occasions they brought prospects into the studio for interviews with the panel. Plus---there was often good, genuine humor. That Charlie Casserly is an old school hoot.

* Plus---the NFL Network crew do such a great job at the Combine. Rich Eisen and Mike Mayock are fantastic in their roles. Again, highly knowledgeable, perspicacious and funny.

* As much as I wanted to support NFL Network the first night of the draft---the one guy that keeps me glued to ESPN is Jon Gruden, who, in my mind is this generation's John Madden.

* Thus, with Gruden off the set for night two, i was determined to switch over to NFL Network, however, for whatever the reason, I just can't help being annoyed by Brian Billick. He tries to come across as professorial, but I can't recall ever feeling enlightened by anything he says. So, I switched back to the Mel and Todd show. I still like Mel---he really hasn't skipped a beat---but I've never really bought into McShay, who strikes me as a Mel wannabe. I do, however, like Trent Dilfer---there's nothing spectacular about him, but he seems to get to the gist of the matter.

* On Saturday, with Billick off the set I stayed with NFL Network, especially because the "Path to the Draft" crew was well represented on the panel and they had Charlie Casserly in the wings.

* What the NFL network now needs is its own version of Adam Shefter or Chris Mortensen---a real good insider could take their coverage to a new level.

3. To me the Belle of the Ball in this draft was Johnny Manziel. He was the top story. Jadaveon Clowney has rare talent, no question, but he's not a magnetic personality. Whether you doubt Manziel or not, he is lightning in a bottle and can do things with the football that are unique. He has the Houdini-like escapability of Fran Tarkenton paired with the bravado of Joe Namath.

What this draft proved to me is that the NFL is not ready for Johnny Football. QB guru George Whitfield, Jr. said it best when he was advising his protogees: "it's not where you are drafted that matters, it's what team that drafts you that matters."

I think that Blake Bortles was a the right fit at Jacksonville. And, no question, he would have been the right fit in Arizona had the Cardinals been in position to draft him. However, for what BA wants in a QB, Logan Thomas may well eventually be the steal of this draft.

Regarding Manziel, I think the Cardinals dodged a major bullet when the Rams passed on him and Bortles for that matter. The reality is the Rams, as currently constituted, were not a good fit for Manziel. Nor were the Cardinals. And that's OK. The best team for Manziel would have been Seattle. They would know how to use him. Alas, for Johnny, he winded up being taken by the wrong team. Already the Browns have shown that they do not understand the player they traded up to get in round one. When the Seahawks drafted Russell Wilson in round three, they had the foresight to assure Wilson that he would have the chance to compete for the starting job. They never said to Wilson that he better behave like a backup.

Manziel is the type of player and personality that a team has to go "all in" for. Twenty-one teams passed on him because they were not prepared to go all in. And even the team that took him isn't.

Manziel, however, might do a Kurt Warner and just take over the show as Warner did in Arizona. Warner was never going to behave like a backup and neither will Manziel. At least Warner had the veterans on his side. Thus far it appears the veterans in Cleveland are non-plussed with the arrival of Johnny Football.

4. As much as I was hopeful for Teddy Bridgewater to get his just due in this draft...in my mind, he did about as stupid a thing as a young QB can do by announcing that he was glad he wasn't picked by Cleveland. I do not think he and the staff at Minnesota are a good match either, but I was happy at first to see him taken in the first round. Now---not so much.

5. Similarly I was elated to see Michael Sam be drafted and found myself feeling very positive thoughts about Jeff Fisher for making the pick happen. But I think the taping of Sam's phone call reaction was a mistake on Sam's part because he was risking that his story become more of a spectacle than it already is. I have no problems with him kissing his partner or anything like that---and no problems with him crying (just as any other player does)---but Sam should have taken a page out of Jason Collins' book by not letting the media exploit and/or sensationalize the situation. Now after claiming that all he wants is to focus on is football (which should have been the priority all along) he at least temporarily had approved of a reality TV show---which is the last thing he or the Rams would ever want. One can only imagine what the Rams are thinking now, even if the TV show has now been put on hold.

6. I think most of us knew going into the draft that the Rams and 49ers were going to bring in a mother lode of talent. The Seahawks are always going to draft well, regardless of where they pick. But, as crazy as this might sound, their drafts weren't as stellar as I thought they would be. My biggest worry with the Rams was that they would draft a QB who could get them over the hump. They did not. My biggest worry with the 49ers was that they would draft Brandin Cooks or Odell Beckham, Jr. They did not. My biggest worry with the Seahawks was that they would draft a high impact offensive lineman---yet they reached for T Justin Britt late in round two, instead. The one player that concerns me the most is DT Aaron Donald, especially in light of the uncertainty the Cardinals have at RG. However, it would seem to me that G Earl Watford is the type of athletic guard who can match up reasonably well versus Donald's quickness, if Watford can hone his techniques. In addition, I was worried that the 49ers would draft Jimmy Garoppolo who strikes me as a QB who can be super efficient. I know this may sound crazy, but I am not sold on Colin Kaepernick.

7. The Cardinals' draft to me is representative and emblematic of Bruce Arians' patience. Arians is teaching this team and organization about the patience it takes to win football games. Like the patience it takes to stay committed to the running game, when you know the temptation is to air it out as often as possible. We've had other coaches insist that the running game is a key part of the plan---but we haven't seen the commitment and patience at work in the games on a consistent basis. That is until last season, especially down the 7-2 stretch.

At #20 with WR Brandin Cooks staring them in the face Steve Keim traded down. Keim, in cahoots with Arians, knew that the "bully" safety with length and speed that they coveted would not be on the board at #52. So, they traded down to a spot where they could take Deone Bucannon and they knew all along that with that extra third rounder they were going to take their speed WR in John Brown. That was their plan.

In the second round, I was at first surprised to see Keim and BA tab TE Troy Niklas. I figured that signing John Carlson and Jake Ballard to go with Housler and the tandem of Fells and Hardy would have sufficed for this year. But, really...what was the best way to improve the running game in BA's offense? Draft a big, tough blocking TE---and they got the best one in the draft.

Having missed out on a pass rusher---aside from Jadaveon Clowney---is there a longer, more athletically suited rusher in the draft than Kareem Martin? BA&SK had said they wanted to get longer and more athletic at the position---

John Brown is just as fast and a little taller than Brandin Cooks and he has been flashing some route running polish and excellent hands in practice thus far.

Logan Thomas---was there a more physically talented QB in this draft than "Juggs"?

Ed Stinson in the fifth round bolsters the interior depth and WR Walter Powell once again show us the depth of the Cardinals' scouting radar because Powell wasn't just some throw in pick, not in the sixth round with all kinds of other talent still on the board. They believe Powell can be the ideal #4 or #5 WR because he had excellent RAC ability and he can be a magnetic force on STs.

Patience.

George Whitfield, Jr. said it best about what team a player gets drafted by. Look at what our draft picks have going for them, aside from having a head coach and staff who love to coach up rookies and play them as soon as they are ready:

Bucannon---comes into a secondary with Patrick Peterson, Tyrann Mathieu and Antonio Cromartie.

Niklas---comes into an offense that stresses the TE position.

Martin---gets to learn his craft from Tom Pratt, John Abraham and Calais Campbell.

Brown---gets to learn his craft from Larry Fitzgerald, Michael Floyd and Ted Ginn, Jr.

Thomas---gets to learn the offense and fundamentals from Carson Palmer and Drew Stanton...oh and some guy name Tom Moore.

Stinson---gets to learn his craft from Darnell Dockett, Calais Campbell and Frostee Rucker.

Powell---gets to learn his craft from Fitz, Floyd, Ginn and Justin Bethel.

Welcome to the Arizona Cardinals where "team is what it takes."
Last edited: