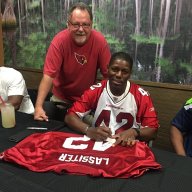 Living is Easy with Eyes Closed
Joined

Apr 30, 2007
Posts

15,841
Reaction score

8,032
Location
The only reason the tickets will sell is because of out of town fans. The number of season tickets bought by die-hard Cards fans are going to be quite low, especially compared to the rest of the league.
No offense Stout but you are on the east coast and saying things based on whatever you are hearing. Re-read my post above. At SDS you could give up your tickets and pick up better seats in a year or 2. Those days are gone. We as PHX/AZ Cardinals have been through 35 years here. Many have moved to the seats they want, made friendships with nearby ticket holders, and do not want to lose all that for a rebuilding year (or 2). The dozens of STHs I talk to say that, but then they will relent and buy them. People from out of town do not buy season tickets. That is a myth. They are sold by STHs. They pay an extraordinary amount to see their team every year, 2 years, 3 years, etc. They are not STHs. They buy tickets for that one game and the STH can make 3-5 times the face value and use that for next year's STs. I have lived this for 35 years. It hurts to sit in OUR stadium drowned out by opposing fans. IT HURTS!
For example, our home games include the Giants, Cowboys, Bengals, Ravens, Rams, Niners, and Seahawks. All of them pay well above face value to buy from STHs. Some will keep their STs, sell some of those games and pay for their STs next year without giving up their season ticket priority status. It may not be that way in Pittsburgh or Philly but it is that way here.
Last edited: