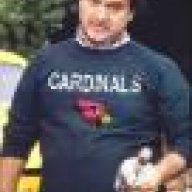 Hold onto the ball, Murray!
Joined

Dec 30, 2002
Posts

36,766
Reaction score

18,241
Location
IMO the front office shouldn't be making any press releases about how they wished they could have resigned so and so...That just makes them sound like a petty jilted ex lover.

By staying silent, it tells me they were A-Ok letting them walk...that they are replaceable, which they really are. Were they nice? Yes...Were they dominant at their position? Nope.

Should they be looking to move on from Ertz and Conner? Probably. Each of them, though, may have value to another team via trade. I think you keep them around, as long as possible...even up to trade deadline. Heck, that's how the Cards got Ertz in the 1st place. They monitored him for weeks/months until Philly was ready to pull the trigger at whatever price.
In another season, where we have a solid team, a good roster, young talent pushing to get game time, yes. Now? No. They were two of our best players, they were good players, and they were young and in the just hitting top form phase of their careers. When tearing down a bad team and rooting out the rot, you really, really need to not let pieces like this walk. While they may be replaceable for good teams, we either need to waste picks to replace them and pray the picks are at least as good, or spend FA resources to replace them. IMO neither way will we be instantly even as good as we were, let alone better, and we will be wasting picks/cap space better used elsewhere.
In other words, don't stupidly allow gaping holes on your already putrid roster to open up. Just shooting ourselves in the foot.