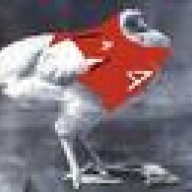 Joined

Oct 10, 2011
Posts

18,804
Reaction score

9,272
I love a good sausage egg mcmuffin, but the timing my life rarely allows for it.

I finally, after many failed attempts, finally figured out how to make the mcdonalds "fresh round egg" at home. I am probably way too proud about this, and while it might seem like all you need is a round egg mold, it doesn't really work, you burn the bottom and the top is runny... and how can you flip it in a mold?!

So, I tried a few things, finally got it, was thrilled, went on the internet to express my joy... and found out that like 500 different people figured out the same trick, I just hadn't typed in the right search terms.

Anyway...

The key to making that style of egg is you, obviously, need some sort of round mold, a mason jar lid works (that is what I used but you need to grease it a bit), put butter in a pan, let it melt, put your mold in the pan, make sure it lays even, put a cracked egg into it (don't crack it on the mold), and once you see the egg is starting to cook through on the bottom, pour a few ounces of water along the outside of the mold to create steam and then put a lid on top. Cooks pretty fast from there.

It creates this magical blend of a fried egg and a poached egg. My favorite styles combined.