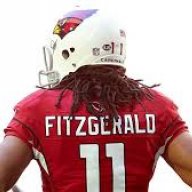 Crawled Through 5 FB Fields
Joined

Aug 10, 2005
Posts

13,405
Reaction score

2,982
Location
Key: (No. Name, Pos., Ht., Wt., Age, Exp. College). Players bolded in

CARDINAL RED

are team's best players, while those in GREEN are bubble players. 41 Abdullah, Hamza, S, 6-2, 215, 26, 6, Washington St.

Good sized backup SS candidate, who can hit, but needs to show significant improvement in pass coverage to stick.

27 Adams, Michael, CB, 5-8, 181, 24, 4, Louisiana-Lafayette.

Feisty ST ace and backup CB is one of the best tacklers on the roster. Needs to improve his press techniques to win the nickel job.

3 Anderson, Derek, QB, 6-6, 230, 26, 6, Oregon St.

Big armed QB has major incentives to show that his one big year in Cleveland was not a fluke. Has the people aropund him here to excel if he can improve his timing and accuracy.

57 Baggs, Stevie, OLB, 6-1, 241, 28, 1, Bethune-Cookman.

CFL sack star who comes to the Cardinals ready to try to become this year's situational edge rusher, a la Bertrand Berry.

23 Barksdale, Rashad, CB, 6-0, 208, 25, 2, Albany St

.

Has the size and athleticism at CB the Cardinals covet. Was turning some heads with the Jets before he got injured. Has an ideal chance to make it here.

84 Becht, Anthony, TE, 6-6, 270, 32, 11, West Virginia.

Best blocking TE the Cardinals have had under Whiz. Should be more a fixture this year with the intention to run the ball more.

52 Beisel, Monty, ILB, 6-3, 244, 31, 10, Kansas St.

Level of play has diminished due to back problems. If he's stronger, because he's a good ST player and can play both ILB spots, he has a chance of making the roster and even starting if he really gets after it.

78 Branch, Alan, DE/DT, 6-5, 338, 25, 4, Michigan.

Suddenly offers the team an imposing rotational DE and DT in short yardage situation.

15 Breaston, Steve, WR, 6-0, 189, 26, 4, Michigan.

First year as the #2 WR...the question is can he develop the excellent timing and chemisty with Leinart and Anderson that he had with Warner.

73 Bridges, Jeremy, T/G, 6-4, 326, 30, 8, Southern Mississippi.

Versatile backup who held up well as a starter at LT down the stretch and now has a chance to win the RT job. His versatility is a real asset.

32

Broughton, Nehemiah, FB, 5-11, 255, 28, 3, The Citadel.

Rugged FB candidate who may surprise as a pass receiver out of the backfield, as he had close to 500 yards receiving at The Citadel.

50 Brown, Cody, OLB, 6-3, 244, 23, 2, Connecticut.

Comes to camp this year with a fresh chance to make a huge impact on the team as an edge pass rusher after spending his rookie year on the IR.

75 Brown, Levi, T, 6-5, 324, 26, 4, Penn State

.

Big mauler who moves over to LT, his natural side, after struggling at times as a pass protector on the right side.

86 Byrd, Dominique, TE, 6-3, 255, 26, 4, USC.

May be the best pass receiving TE on the roster. Made the team because of it last year, but wasn't activated. Can he stick again with the team becoming more run oriented? Chemistry with fellow Trojan Leinart may be the key.

21 Calvin, Jorrick, CB, 5-10, 182, 22, R, Troy.

Put up very good numbers two years ago at Troy, has the requisite size and athleticism to be a solid nickel back and kick returner, but will need to try to transition into the NFL from one year at Troy followed by a year of missed games.

93 Campbell, Calais, DE, 6-8, 290, 23, 3, Miami (Fla.).

Had a very good season last year despite fading a bit down the stretch. Has Pro Bowl potential if he can prove to be a better wrap-up tackler.

71 Clark, Jeremy, DE, 6-3, 309, 26, 2, Alabama.

Three year starter at Aabama and PS member of the Giants, may be better suited to playing 4-3 DT or beef further up to play 3-4 NT.

62 Claxton, Ben, C, 6-2, 301, 29, 4, Mississippi.

Made roster as the backup C last year after solid pre-season. With improved depth this year, may have a harder time.

59 Davis, Will, OLB, 6-2, 261, 23, 2, Illinois.

Showed flashes of good ST and pass rush ability last year. Could be one of the biggest surprises this year and become a solid rotation player.

90 Dockett, Darnell, DE, 6-4, 285, 28, 7, Florida St.

After two very good seasons in a row and his first pro Bowl berth has become the leader of the Birdgang. Plays with relentless passion.

80 Doucet, Early, WR, 6-0, 212, 24, 3, LSU.

His emergence as a bona-fide playmaker from the slot made it easier to trade Boldin. Showed much improved hands, quickness and toughness, especially in the red zone.

81 Dray, Jim, TE, 6-5, 246, 23, R, Stanford.

7th round pick who has shown remarkable determination and toughness rebounding from a major knee injury. Has a chance to win the #3 TE job, especially with the team's new commitment to the run.

73 Dykes, Keilen, DE, 6-3, 305, 25, 2, West Virginia.

Coaches have liked his ability, but can't wait another year for him to get healthy. It's make or break for him this year.

66 Faneca, Alan, G, 6-5, 305, 33, 13, LSU.

9 time Pro Bowler gives the young offensive line as good a leader as they could ever want or hope for. Could galvanize the line and instill the smashmouth mentality it needs to be dominant.

4 Feely, Jay, K, 5-10, 205, 33, 10.

Veteran kicker who kicks well in all conditions who has already bonded well his his new teammates.

11 Fitzgerald, Larry, WR, 6-3, 217, 26, 7, Pittsburgh.

Despite being a starter at WR in the Pro Bowl again, was not entirely pleased with his own play last year. Has become an excellent leader, and needs to play faster and more determined than ever to reach his personal goals.

16 Gant, Edward, 6-3, 190, 26, 1, North Alabama.

Coaches like this young WR with good size, smarts and hands. Will need to show he can be good on STs to make the roster as the #5 WR.

5 Graham, Ben, P, 6-5, 235, 36, 6, Deakin (Australia).

All World punter last year...no one was better at all aspects of the craft...may get the credit he deserves this year.

30 Green, Marhsay, CB, 5-9, 175, 24, R, Mississippi.

2009 Cotton Bowl Defensive MVP who had a 65 yd. int. return and a long punt return. Held WR Michael Crabtree in that game to 4 catches. Has speed and quickness, needs stronger leverege and technique to win a roster spot as a nickel, and may have a decent chance.

70 Hadnot, Rex, G/C, 6-2, 320, 28, 7, Houston.

Mauler who helped propel the Browns' impressive running game down the stretch last year. Has a solid chance to win the RG job, and can save a roster spot by being a good option at center.

53 Haggans, Clark, OLB, 6-4, 243, 33, 11, Colorado St.

Was the most consistent linebacker on the team last year by a wide margin. Plays smart, instinctively and aggressively. Hard to trick on bootlegs and screens, and can get good pressure on the QB.

6 Hall, Max, QB, 6-1, 201, 24, R, BYU.

Has the competitive desire and innate accuracy to be a solid backup. May even develop into a starter down the road.

54 Hayes, Gerald, ILB, 6-1, 246, 29, 8, Pittsburgh.

Was more aggressive than usual earlier in the year, but faded a great deal down the stretch due to back injury. Team needs a big rebound year from him.

95 Highsmith, Ali, ILB, 6-1, 230, 25, 3, LSU.

Struggled when used at WILB last year. Was released then re-signed to PS. Could be one of the more motivated players in camp this year to prove that he is a lot better than what he showed. Probably has to beat Paris Lenon out for a roster spot, which may be tough.

34 Hightower, Tim, RB, 6-0, 222, 23, 2, Richmond.

Showed he could do it all last year..turn in long gains, rush for 100 yard games, block well in protection and be a productive receiving threat out of the backfield. Remains an excellent TD runner in the red zone.

91 Iwebema, Kenny, DE, 6-4, 280, 25, 3, Iowa.

Emerged as a good rotational DE last year. Has quickness, strength and a burst to the bal.

20 Jefferson, A.J., CB, 6-0, 190, 22. R, Fresno St.

Wowed scouts at the combine with size, speed and vertical jump (44"). Was an outstanding kickoff returner at Fresno St. Late developing CB prospect who needs to react well to the coaching.

67 Johnson, Herman, G/T, 6-7, 382, 25, 2, LSU.

Mammouth lineman who showed surprising flexibility at tackle last pre-season. May be in the mix for the RT or RG jobs.

49 Johnson, Rashad, S, 5-11, 203, 24, 2, Alabama.

More was expected from him last year as a rookie. This year he could earn a role as nickel FS so that the coaches can be flexible with Wilson and Rhodes.

44 Jones, Herana-Daze, S, 5-11, 205, 28, 5, Indiana.

Provides the team with a solid SS backup and ST standout. Good tackler. Led the Bengals in ST tackles two years in a row (2006 & 2007) before getting slowed by injuries.

17 Jones, Onrea, WR, 6-0, 202, 26, 1, Hampton.

Has turned in good performances in the past two pre-seasons, but needs to find a way to contribute on STs to stick as #5 WR.

65 Kees, Ryan, DE, 6-6, 275, 24, 1, St. Cloud St.

Plucked off the Giiats' PS late last year. Has good size and motor. Could be a surprise.

72 Keith, Brandon, T, 6-5, 338, 25, 3, Northern Iowa.

Expected to win the RT job. Very good athlete for his size. Has brute strength at the point of attack and good feet in pass protection.

69 Knips, Casey, T, 6-8, 300, 23, R, South Dakota St.

Classic Russ Grimm project. Has size and good athleticism, but needs to improve strength and technique.

18 Komar, Max, WR, 5-11, 202, 22, R, Idaho.

Slot WR who put up big numbers for the Vandals. Has a legitimate chance to make the team if he proves to be a good ST player.

82 Leach, Mike, LS, 6-2, 238, 33, 11, William and Mary.

One of the best LSers in the NFL. Good hustler in coverage as well.

7 Leinart, Matt, QB, 6-5, 232, 26, 5, USC.

Has the experience in the system to step into starting role and flourish. With the team's added emphasis on a running game, he will need to be efficient in converting third downs and getting the team into the end zone.

51 Lenon, Paris, ILB, 6-2, 235, 32, 9, Richmond.

Team hopes he is the 122 tackle payer he was with the Lions, not the 47 tackle player he was last year with the Rams.

76 Lutui, Deuce, G, 6-4, 338, 26, 5, USC.

Mysterious AWOL who is slated to earn $1.75M this season coming off his best year as a pro. Has to reconcile his differences with the team and win his job back over much improved in-house competition.

45 Maui'a, Reagan, FB, 6-0, 260, 25, 3, Hawaii.

Rugged smashmouth FB has very good chance to win the job if he blocks like a madman and offers the team STs ability.

37 McBride, Trumaine, CB, 5-9, 180, 24, 4, Mississippi.

Started some games for the Bears and was waived due to being slowed by injuries. Lacks ideal size, but has the quickness and technique to be productive.

47 Miller, Justin, CB/KR, 5-10, 195, 26, 6, Clemson.

Recently signed to compete for nickel job and kickoff returner (he has 4 career kickoff return TDs and has the speed to hit a crease and race to daylight). Has all the physical aspects you want in a good CB, but has lacked discipline in his technique.

60 Moosman, David, C/G, 6-5, 293, 23, R, Michigan.

Versatile interior lineman who has good technique but needs to add strength.

85 Mougey, Darren, WR, 6-6, 230, 25, 1, San Diego St.

Ex-college QB converted to WR who is a big target with soft hands and could run the reverse option pass, a play the Whiz loves. Will need to show some ST ability to win #5 WR job.

64 Muhtadi, Dean, DE/DT, 6-3, 296, 23, 1, Maryland.

Still hold almost all the Maryland weightlifting records, including 36 reps at 225. Good, strong competitor who may be one of the biggest surprises.

79 Palmer, Jonathan, G, 6-4, 336, 26, 1, Auburn.

Spent time on PS last year. It will be interesting to what improvements he's made under Grimm's tutelage.

89 Patrick, Ben, TE, 6-3, 264, 25, 4, Delaware.

Atoned for four game suspension last year by blocking and catching well down the stretch. Really started to pound people, and was a factor catching the ball up the seams.

68 Pestock, Tom, T, 6-6, 317, 25, 1, NW Missouri St.

Is in his second year playing for Grimm. Curious to see what improvements he's made.

55 Porter, Joey, OLB, 6-3, 255, 33, 12, Colorado St.

Brings the edge passing threat and competitive attitude the Cardinals need in order to win games on defense.

25 Rhodes, Kerry, FS, 6-3, 214, 27, 6, Louisville.

Versatile FS who can help deep, deliver big plays from the box and cover man to man. Brings a flair and a passion for winning.

12 Roberts, Andre, WR, 5-11, 195, 22, R, The Citadel.

3rd round draft pick who possesses speed, excellent hands, and exciting YAC ability. Should win punt return job as well.

97 Robinson, Bryan, NT, 6-4, 304, 35, 14, Fresno St.

Incumbent veteran starter at NT who provides leadership and enthusiasm.

29 Rodgers-Cromartie, Dominique, CB, 6-2, 182, 24, 3, Tennessee St.

Coming off Pro Bowl invitation and season ending knee injury. Has been working diligently to get back to full strength. Needs to improve his reads and his tackling.

48 Schofield, O'Brien, OLB, 6-2, 231, 23, R, Wisconsin.

4th round draft pick who is rehabbing a knee in hopes to play this season and contribute as an edge rusher. Was dynamic in that role at Wisconsin.

63 Sendlein, Lyle, C, 6-3, 305, 26, 4, Texas.

Coming off best year as a pro. Plays smart and with great energy and enthusiasm.

19 Skelton, John, QB, 6-5, 244, 22, R, Fordham.

5th round draft pick who has proto-typical size, a big-time arm and surprising mobility.

46 Smith, Alfonso, RB, 6-1, 208, 23, R, Kentucky.

Speedy RB with good size. Will hope to land a spot on the PS.

83 Spach, Stephen, TE, 6-4, 260, 27, 5, Fresno St.

Battled back strong from knee injury and needs to show further improvement as a blocker and receiver. Could double as a FB/H-Back.

36 Stephens-Howling, LaRod, RB, 5-7, 180, 23, 2, Pittsburgh.

Made enormously positive contributions as a rookie ST player, kick returner and change of pace RB.

87 Stewart, Juamorris, WR, 6-3, 205, 23, R, Southern.

Productive college WR with good size who doesn't dazzle in one particular phase of the game per se, but gets the job done. Will need to be a factor on STs.

28 Toler, Greg, CB, 6-0, 191, 25, 2, St. Paul's.

Ideal size and athleticism to be a good starter at RCB opposite DRC.

61 Tyler, Devin, T, 6-7, 308, 23, R, Temple.

Helped to put Temple football back on the map. Graded well in his game versus Penn. St. two years ago, which is a good way to measure his potential.

56 Walker, Reggie, ILB, 6-0, 238, 23, 2, Kansas St.

Surprise UCFA last year who won a roster spot by thumping RBs at the goal-line and in short yardage situations. Could win the SILB job this year due to Hayes' back issues.

22 Ware, Matt, S, 6-2, 215, 27, 7, UCLA.

Starting to play his best football as a nickel FS. Needs to shirk the injury bug.

58 Washington, Daryl, ILB, 6-2, 230, R, TCU.

2nd round pick who brings speed, athleticism and suddenness to the weak side of the defense.

96 Washington, Mark, OLB, 6-3, 245, 1, Texas St.-San Marcos.

Good athlete whom the coaches are high on and who can make the roster if he shows versatility and STs prowess.

98 Watson, Gabe, NT, 6-4, 329, 26, 5, Michigan.

Made solid contributions last year despite lingering knee issues. May need to beat Bryan Robinson out to retain his spot on the roster.

26 Wells, Beanie, RB, 6-1, 228, 21, 2, Ohio St.

Big, fast, stiff-arming home run threat, who aspires to become one of the elite RBs in the NFL.

74 Wells, Reggie, G/T, 6-4, 312, 29, 8, Clarion.

His versatility will be put to the test this year as he will have to switch back over to the right side to compete at the RG and RT positions.

92 Williams, Dan, NT, 6-2, 327, Tennessee.

1st round pick who made 70 tackles last year on the interior of the Volunteer's line. Brings the total package of strength, short area quickness and agility to the middle of the Cardinals' defense.

14 Williams, Stephen, WR, 6-5, 199, 23, R, Toledo.

All-Time leader in recpetions and yards at Toledo who has the size, hands and speed to be a strong contender for the #5 WR job. May need to be a factor on STs to be activated each week.

24 Wilson, Adrian, S, 6-3, 226, 30, 10, North Carolina St.

Dynamic hitter and highlight reel Pro Bowl star who needs to play better in coverage.

31 Wright, Jason, RB, 5-10, 212, 27, 6, Northwestern.

Versatile RB and STs player who played well in cameo appearances. Might have a harder time making the roster this year due to team needs in other areas.
Last edited: