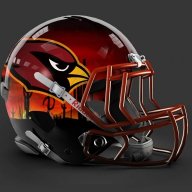 Stone Cold
Banned from P+R
Joined

Mar 13, 2004
Posts

14,709
Reaction score

9,673
Location
oaken 1, I'll be the first to admit, that you know a lot more about the draft than I do, and I appreciate your take. All I'll say in my defense is that I've seen about four or five CB's going in the first round. And if we wait until the 3rd round, I think we'll have to get lucky in order to come up with a good CB. Is trading back the answer?
honestly there may be as many as five corners who get picked in the first..... but teams will be reaching as they always do for a position that has become so important in the league.
lots of factors come into play with corners... not just zone Vs Man coverage but field awareness, recovery, ball skills, physicality, where do they watch the play....
This is why a body of work is important....some guys have loads of ability but they make too much contact and have poor ball skills... he may turn into a fantastic corner in the nfl but you have to decide where you want to spend your picks...
a first round pick should be a guy you expect to be a game changer..... a DB that covers well, but draws penalties and never catches the ball is not a game changer... in the first you want a corner who can get the ball back for you
Hargreaves is likely the best corner in the draft even though Ramsey will probably go 10 spots ahead of him....Ramsey is bigger...Hargreaves sticks to the WR better, recovers better, and has better ball skills...
apple is arguable.... he will probably go in the first due to need... but really,...somewhere around pick 35-40 is where he should go because he is more of a developmental player...he will get eaten alive against nfl offenses to start out...he uses his hands too much to cover...and he cant really catch....a quick WR with nice sudden route running will draw PI calls on Apple all day long at this stage of his game.
since the Cardinals recent M.O. is to sit the first round pick for a year....maybe that makes apple the guy, lol...the potential is there with him