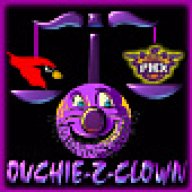 Joined

Sep 16, 2002
Posts

57,175
Reaction score

46,532
Location
Well then it should have been easy for you to shrug off my accusation. But, I'll admit that I was wrong here, and hopefully we can move on. I apologize for failing to regard your perspective as fully individual.

This is one of our big disagreements. I don't put any stock at all in Durant's claims to be hungry, and even less in the take of league talking heads, who as we all know are ignorant.

I've seen nothing over Durant's long career to suggest that he's

capable

of finding a higher motivation gear. And I think it's folly to believe, never mind assume, that he'll be transformed into SuperDurant if he gets his way and joins the Suns.

I'm also much more concerned about his injury history than you are. Achilles ruptures have a pretty bad track record, as detailed here:

https://fivethirtyeight.com/features/kevin-durant-looks-like-himself-again/

Now, the two worst cases on that list, Bryant and Billups, both suffered the injury in their mid-30s, so Durant has a potential advantage there. And some of the players were never stars, or all that fluid, in the first place.

The best comparison is probably Dominique Wilkins, who tore his Achilles at age 32. When he came back, his numbers were as good as ever for two seasons, until age 35, when he started to fall off rather precipitously. So it starts to become a question of counting months on the calendar and hoping to get lucky.

I'm pretty sure that, over the years, you've joined the chorus on this board of questioning Durant's heart and making fun of his inept handling of celebrity. But maybe I'm misremembering. Either way, I'm far from the only one who thinks that Durant is a headcase.

And it's telling how, over the last week or so, the pro-Durant crowd has shifted from "Durant is awesome and will give us what we need" to "Eh, we're screwed no matter what, so we might as well gamble on a miracle." I mean, that's not exactly a vote of confidence. So the question isn't really so much the upside of getting Durant, but the downside of whatever the alternative is. And I'm less despondent than most about the alternatives.
Thank you.
We do disagree about his hunger. I don't think he's a hair's breadth from beating the bucks in 2021 if he wasn't hungry. Nor do I think he pushes out of Brooklyn if he wasn't.
And I heard a couple guys on the radio bring up a good - and what I believe to be a salient - point. Durant isn't a leader. Never has been. What he is a fantastic basketball player. So when he's left with other great ball players but not leaders (see Russ and kyrie) his teams underperform. But when he's paired with terrific players who are also leaders (see warriors) he elevates. Because he's only looked upon to be a great player, not needed to be a great leader. I think the suns provide that in Paul, and I think Booker is learning it.
The injury definitely worries me. But at some point you have to take risks. I don't see this type of opportunity coming round for a team in the foreseeable future - there is no colangelo to generate them - so I think you gotta take your shot when the rare opportunity presents itself. Understand. This wasn't my first line of thinking. I'd been geared for a long haul approach with all our youth. But with Ayton's likely departure and Paul's age I've changed my perspective.
And I have DEFINITELY been a harsh critic of durants heart. But again I don't think it's as big an issue when he's in a team with a top shelf leader. So I'm not as concerned with Paul and book. We've seen how he rises to the occasion with a talented team with leadership.
And I haven't really shifted. I'm even levels of stoked about adding someone of durants talent and ability and realistic to recognize absent that trade we fade back to non contender status. It's the combination the two that convinced me we have to take our shot now.