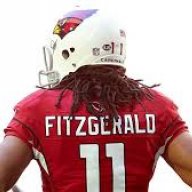 Crawled Through 5 FB Fields
Joined

Aug 10, 2005
Posts

13,405
Reaction score

2,982
Location
Under the Bruce Arians/Harold Goodwin/Steve Keim five year regime there has been one irreparable constant: an under-performig offensive line that always seems to be in total flux.

It did not bode well from the get-go when Bruce Arians in his first year described oft-maligned LT Levi Brown as an "elite tackle."

Then came the unorthodox selection of a top ten draft pick on G Jonathan Cooper of North Carolina, whom both Arians and Keim likened to a "young Randall McDaniel."

Brown flamed out early and was traded unceremoniously to the Steelers not even a month into the 2013 season. The Cardinals were intent turning over the LT duties to Bradley Sowell.

Meanwhile, Jonathan Cooper suffered a season ending broken leg in his first pre-season and in subsequent years had difficulty staying in the lineup because he supposedly could not fathom and understand the game plans from week to week.

In 2013, Keim also drafted G Earl Watford in Round 4. The coaches raved about Watford's impressive athleticism, but he came from a small school and was having difficulty picking up the playbook. By his 4th year Watford was turned to as the Swiss Army knife utility guard/tackle/center. While he filled in for injured starters several times, Watford never really found his niche as a starter in Arizona and left via free agency this past spring.

Steve Keim went to work the following year and added UFA LT Jared Veldheer to supplant the underwhelming Sowell at LT. Veldheer was an immediate upgrade. However, in subsequent years, Veldheer's play has steadily declined. More on this to come.

In 2015, Keim landed UFA All-Pro LG Mike Iupati to form an imposing left side of the line tandem. Iupati was certainly going to help improve the Cardinals' running game, but as a pass happy offense, some questioned the signing because Iupati's strength is not in pass protection.

Also in 2015, Keim surprised everyone by trading down in the 1st round and taking T D.J. Humphries of Florida. Humphries had come out early in the draft and was a young and raw 20 year old.

The thinking at the time was that Humphries was going to take over for RT Bobby Massie, the Cardinals' 2012 4th round draft pick. The attractive thing about Humphries is he looked like a natural LT in the NFL, but with Veldheer at LT and the soon-to-be UFA Massie (coming off a DUI on Super Bowl Sunday and a upcoming 2 game suspension) the plan was to move Humphries to RT.

The curious thing was --- even though Massie was going to miss two games, Humphries was so slow to pick up the Cardinals' offense and to display a professional approach to his work, that not only did Earl Watford start at RT instead, Humphries was publicly branded "Knee Deep" by his head coach, a sobriquet given to him by his OC Harold Goodwin.

Going into 2016, the plan seemed to be to start Humphries, Knee Deep and all, at RT. Although curiously when UFA Bobby Massie was being wooed by the Bears, Keim made a last ditch contract offer to Massie, which Massie turned down. One can only conclude that Keim's confidence in Humphries was pretty shaky to make that desperate move.

At center, the Cardinals stayed with long-time stalwart Lyle Sendlein in 2013 and 2014. In 2015, Keim brought in A.Q. Shipley to start at center, only to find that three weeks into the pre-season, Keim re-signed Sendlein and a week later Sendlein was the starter.

In 2016, Keim's biggest UFA addition was RG Evan Mathis who was pondering retirement coming off a Super Bowl win with the Broncos and off-season rehabs of groin and ankle injuries. Early into the season, Mathis suffered a foot injury in the first game, a turf toe injury in the second game, he sat out the third game, was rushed back for the 4th game when he suffered a season-ending ankle injury.

In 2016, Keim also drafted C Evan Boehm in Round 4 and G/T Cole Toner in Round 6. Boehm was to be A.Q. Shipley's successor at center...and would have been this year had not Boehm been forced to play RG for the last two games of the season last year and due to Keim's curious decision to re-sign Shipley as the starting center this off-season. As for Cole Toner, he was beat out by Daniel Munyer for the backup center/guard job and after being waived Toner is now on the Bengals' practice squad.

Shipley is a lunch pail, fire hydrant of a player, who gives max effort. The problem is he is very limited in what he can offer physically. Centers today typically need to be able to get quickly to the second level and to pull on trap plays and screens. While Shipley is a strong and smart anchor in the middle, his lack of maneuverability limits what the offense can do.

Meanwhile, Boehm has started the first two games at guard with mixed results. He graded the highest of all the Cardinals' offensive linemen in week 1 versus the Lions, a game in which the Cardinals offensive line was dominated at the point of attack by the Lions. In game 2 versus the Colts, Boehm was not as productive and made a number of mistakes.

Now, back to Jared Veldheer. He missed the entire second half of the season last year due to a partially torn triceps. While he was out, the Cardinals flipped Humphries (who struggled at RT) over to LT and liked what they saw. However, Humphries missed the last three games after suffering a concussion in the loss at Miami.

This year the coaches decided to flip flop Humphries and Veldheer. Veldheer was not thrilled with the decision and even took a day off from training camp to ponder retirement. Humphries played all of 8 snaps in the week 1 game in Detroit before get carted off with a knee injury. Word from BA is that Humphries will be out a couple of more weeks. Meanwhile Veldheer has struggled big-time at RT. He is giving up sacks and QB pressures at at alarming rate and he has never been much of a force in the running game.

This year's Swiss Army knife T/G utility man is John Wetzel who played surprisingly well at LT the last two games of the year last season during wins at Seattle and Los Angeles. Ironically, behind a totally patchwork offensive line without Veldheer, Iupati, Mathis and Humphries, QB Carson Palmer had his two best and cleanest games of the season.

Wetzel was pressed into action early in the Lions game and struggled in pass pro versus DEs Ziggy Ansuh and Anthony Zettel. BA vowed to stick with Wetzel at LT and felt that with a week's preparation Wetzel could do a better job. Interestingly, Wetzel earned the highest grade on the offensive line versus the Colts. he did not surrender any sacks and, in fact, in 40 pass pro snaps, he did not give up one QB pressure. Plus, the Cardinals got their best runs rushing to Wetzel's and to newcomer LG Alex Boone's side.

Alex Boone, who was released by the Vikings for refusing to take a pay cut, filled in fairly well for LG Mike Iupati, who came into camp 10 pounds lighter and in good shape, but who suffered a torn triceps a couple of weeks ago and was rushed back for week 1 where he further aggravated the injury. Rushing Iupati back for week 1 was reminiscent of the Cardinals rushing Evan Mathis back too soon early last season. BA said that Iupati is now 'trending positive" toward a return, either this week or next.

Steve Keim, knowing that this could be Iupati's and Veldheer's last year with the team, drafted All-American G Dorian Johnson (Pittsburgh) in the 4th round and 2nd Team All-SEC T Will Holden (Vanderbilt) in the 5th round. The problem is Dorian Johnson was mysteriously buried deep on the depth chart during training camp and was waived, and then re-signed to the practice squad. Again -- rookie draft picks struggling to assimilate into BA's and HG's offense and good graces. The pattern here is too glaring to ignore.

Holden was kept over Ulrich John (one of Keim's better signings off practice squads --- John played reasonably well in his spot starts last year) and Holden this week was used as a blocking TE on 17 snaps.

What is so mind boggling about the Cardinals' seemingly perpetual offensive line woes is how diligent Steve Keim has been in trying to add talent and depth to the unit and yet it's more of the same old same old struggles and constant flux. One would think that this unit would have been fired up out of their minds to block for David Johnson, a potential record setter at RB, and yet in game one versus the Lions, they were dominated by the Lions' front seven and looked totally uninspired.

But then again...upon closer review...the question seems obvious: how friendly is BA's offense for offensive linemen? BA expects all 5 of his linemen to win their one-on-one battles. BA doesn't care who is playing. If you are his LT, no matter who you are, don't ask for any help, because you aren't going to get any. As a result, when any of the linemen get beat and there is no immediate help, they get exposed. It's like walking a tight rope without a safety net.

How much of the o-line woes can be attributed to Harold Goodwin? Goodwin is an f-bomber deluxe who is highly demanding and highly intolerant of mistakes. While one would expect a coach to preach high standards, is his coaching style successful? It's been 5 years with him in charge and here's the question: has the continuity and the play of the offensive line improved?

After two games, Carson Palmer has gotten hit an alarming 16 times and has been sacked 5 times. His completion percentage is 54.8% which is the 2nd lowest in the league. Palmer is tied for the most interceptions with 4. The running game is averaging a paltry 64 yards per game.

My own hunches are --- D.J. Humphries cannot be counted on. He strikes me as being out of shape and not all that committed to his craft, which is why he is so injury prone. Mike Iupati needs help in pass pro, which means keeping a RB in the backfield. Evan Boehm should be moved over to center, where he belongs. Alex Boone should take over at RG. He's a good pass protector which is much needed at this point. Jared Veldeer has one more game to show if he is worthy of staying at RT, but he'd better be given help this week because DE DeMarcus Lawrence of the Cowboys is a beast who could literally knock Palmer out. if Veldheer struggles again, try Ulrich John or Will Holden at RT. Keep John Wetzel at LT. If and when Humphries comes back, switch Wetzel to RT. At this point he's a much better run blocker than Veldheer and he's a better pass protector, as evidence by 0 QB pressures in 40 snaps versus Jabaal Sheard and John Simon last week.

The bottom line is --- it's time to put up or shut up for Bruce Arians and Harold Goodwin.